LMSD Students Organize Philadelphia Women's March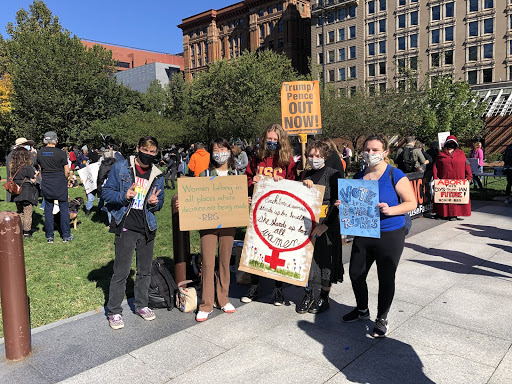 On Saturday, October 17, 2020, several hundred women and allies took to the streets of Philadelphia to protest President Donald Trump's controversial nomination of Justice Amy Coney Barrett to the United States Supreme Court.
A group of Lower Merion School District high school seniors and a Philadelphia resident, Cassie Paolillo, organized this "We Dissent" march, which consisted of an hour walk from Independence Hall to the Philadelphia Museum of Art. Throughout the march, organizers led the group in continuous feminist-related chants.
After arriving at the Art Museum steps, several LMSD students performed poetry, including Sammy Biglin, Teddy Eisenstein, and Julianna Schweitzer. Additionally, renowned author and poet Kashmir Maryam shared a poem about Islam and female empowerment. The event concluded with an open mic.
Speakers included Lynette Medley of No More Secrets––a Black-owned non-profit focused on ending period poverty––who expressed to the crowd her concerns about how lack of feminine hygiene products affects women in places like school or the workplace.
Amanda Cappelletti, candidate for Pennsylvania State Senate's 17th Senatorial District (which includes Lower Merion and Narberth), commented on the discrepancies between men and women running for office. She noted how women are reluctant to run for office.
A spokesperson from the organization One Fair Wage, which raises awareness for the extremely low wages of tipped workers (federally, restaurant workers make about $2.13 per hour without tips), told the crowd how the low hourly wages of tipped workers is a "legacy of slavery" and has a goal of federally raising the minimum wage to at least $15 per hour.
The October 17 Philadelphia Women's March was in partnership with the national Women's March organization, along with countless other marches across the country the same day. Although the march has been held annually since 2017, this one was organized in response to United States Supreme Court Justice nominee, Amy Coney Barrett's, possible interest in overturning Roe v. Wade (1973), which entitles women to have abortions.