Harriton Mock Trial Team Qualifies for States as Regional Finalists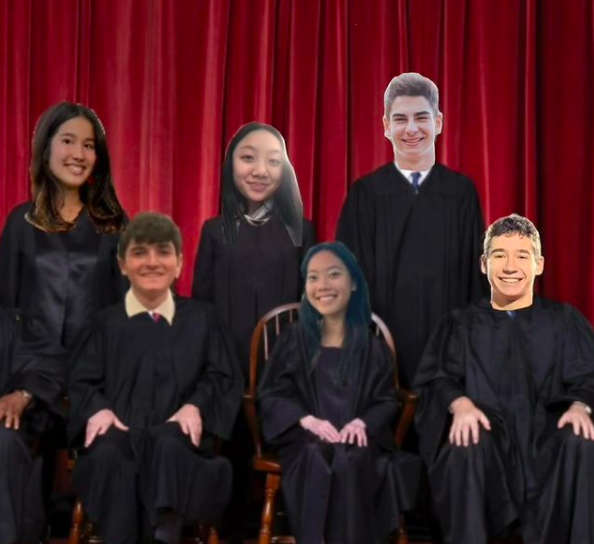 On Tuesday, March 2, 2021, Harriton's mock trial team competed against St. Basil Academy and won, earning a position as State Qualifiers and Regional Competition Finalists. This year's team was as follows:
Plaintiff: Camille Furer (lawyer), Jade Zhu (lawyer), Tyler Carson (lawyer), Evan Zales (witness), Vivian Ma (witness), Ray Costello (witness)
Defense: Aruna Balasubramanian (lawyer), Eli Feldman (lawyer), Dinah Daybooth (lawyer), Bruno Basner (witness), Chase Robbins (witness), Djuna Daybooth (witness)
Others: Chris Frabizzio (timekeeper), Arielle Biran (paralegal), Kaia Bachmeier (paralegal), Harry Mack (paralegal)
This year's season began with the defense beating Lower Moreland on February 9, 2021. Afterward, the plaintiff was chosen to compete four times, beating the Haverford School A and B teams, Jenkintown High School and St. Basil Academy.
Typically both the plaintiff and defense teams get an even number of trial dates, but this year due to sheer luck, the Plaintiff team continually competed for five rounds in a row.
"My back hurts," Plaintiff Lawyer Tyler Carson joked about carrying the team, as the plaintiff headed into its fifth trial in a row against Lower Merion. Members of the plaintiff expressed their exhaustion but also were glad about the amount of practice they were able to get from this.
While the Harriton team competed against Lower Merion High School on March 4 and lost by a small margin of 0.3 points, the result of this trial does not impact the team's chances at States, as both Lower Merion and Harriton were the regional champions for the second year in a row, both qualifying for the State Competition.
This year the students had a civil case involving a chemical concoction and the death of a recovering drug addict. While the plaintiff argued that this chemical "antidote" made by the defendant was the cause of death, the defense responded by saying this death was caused by drug usage and caffeine overdose.
"I'm very proud of the defense and plaintiff for getting together such strong opposing arguments," said returning junior Aruna Balasubramanian, noting that this year's case was the "most complex" case the team has had.
In past years, the team competed at States in the 2018-2019 season and qualified during the 2019-2020 season, but due to COVID-19, they were unable to compete.
"Mock Trial online has definitely been an interesting experience," returning Senior Dinah Daybooth explained, "but I'm so grateful for the opportunity to participate this year. Everyone adapted really well to the new environment!"
The Harriton Mock Trial season typically begins in November when the Pennsylvania Bar Association releases the case for the year. Harriton students who are interested in being a part of the team, audition to be witnesses or lawyers.
The team consists of 6 lawyers (3 defense, 3 plaintiff), 6 witnesses (3 defense, 3 plaintiff), and a timekeeper. The team usually meets once a week, until competition season starts, and practices range anywhere from 2 to 5 times a week. Lawyers work together with witnesses to craft direct and cross-examinations, opening and closing arguments, and learn objections.
While witnesses take on a character and learn how to respond to difficult questions. Competitions typically begin in early February, with the plaintiff and defense each going once. If both sides win, the team moves on. From here on, plaintiff or defense is picked at random to compete and if they lose- the season is over.
"Having had experience participating in trials online gives us an advantage because that's what fully trained lawyers are having to learn right now!" Stated Balasubramanian, speaking about one of the many advantages of the club.
"Mock Trial has been a great experience in which I've met a lot of cool people," added new member Bruno Basner. Freshman Vivian Ma also described this season so far as "fulfilling," saying, "I have gotten the opportunity to collaborate with upperclassmen on the team who have taught me so much and have helped me further be a part of the Harriton community."
Team Captains Camille Furer and Jade Zhu also expressed how proud they were of their team and how amazing it was to see their hard work pay off.
Be sure to wish the Harriton Mock Trial Team members luck for the virtual State Competition!
About the Writer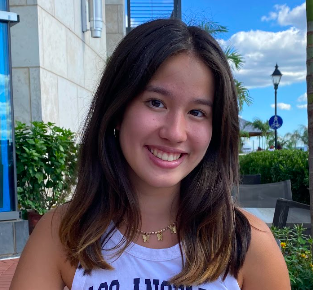 Camille Furer, News Editor
This is Camille's fourth year as a writer and second year as HNews Editor at the Banner. Camille loves writing about events happening in the LMSD community...