Dr. Slaoui Fired Over Sexual Harassment Charges
GSK Fires Former Warp Speed Chief After Investigation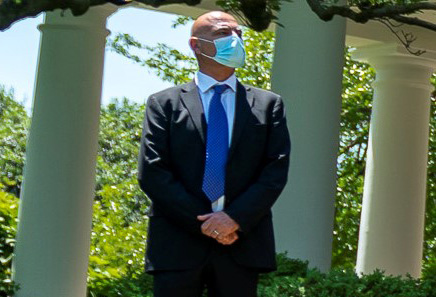 Moncef Slaoui, the Former Chief Advisor of Operation Warp Speed under President Donald Trump, has been fired from GlaxoSmithKline pharmaceutical company over sexual harassment allegations and subsequent investigation.
After President Biden's victory, Dr. Slaoui had stepped down from the U.S. government vaccine head position and continued his role at GlaxoSmithKline as Chairman of Galvani Bioelectronics. Dr. Slaoui had also recently spoken at Harriton to give students and staff insight into his work on Operation Warp Speed.
In the last month, allegations have arisen about his past inappropriate behavior as reported in The New York Times. GSK first heard about the claims in February through a letter that contained "allegations of sexual harassment and inappropriate conduct towards an employee." GSK conducted a formal investigation.
After finding substantiated evidence, GlaxoSmithKline issued a formal statement condemning his actions and terminating Dr. Moncef Slaoui as Chair of the Galvani Board of Directors. Additionally, the company removed his name from "The Slaoui Center for Vaccines Research."
CEO Emma Walmsley wrote a letter to GSK employees addressing the claims and affirming that this was not something for which the company would tolerate. She described his actions as "unacceptable" and an example of an abuse of power.
Other companies Slaoui was involved with, including Vaxcyte and Centessa, have announced that Dr. Slaoui has agreed to resign from his position. Both organizations published statements apologizing on behalf of Dr. Slaoui's actions and reassuring the public that they do not condone or tolerate this type of behavior.
Dr. Slaoui apologized for his actions earlier this week and stated he was "deeply sorry" to the woman, as well as his family. He mentions he will be taking time off to reflect and spend time with his sons and wife.