The Computer Science Club's Trip to Black Rock Middle School
On Wednesday, December 14, Harriton High School's Computer Science Club traveled to Black Rock Middle School to inspire young students to join computer science classes and clubs once they enter high school. 
Frequently, when students think about a computer science career, they tend to visualize jobs at large software corporations such as Google or Amazon. In reality, a background in computer science can lead to a wide array of future careers, from 3D computer-generated animation to commercial drone piloting, and everything in between. 
Stereotypes about the types of people who typically enter technology fields, such as the myth that computer science is a male-dominated area, along with the seemingly limited choices in tech jobs, often divert people from getting involved. To help combat these preconceived notions, the HCSC presenters spoke about the versatility of computer science fields and invoked excitement about what a job in technology can look like.
The computer science co-presidents, Sasha Beck and Sam Girshovich, along with their advisor and key planner of the event, Mr. Busza, realized the importance of this trip when seeing the lack of participation, especially among females, in computer science clubs and classes at Harriton.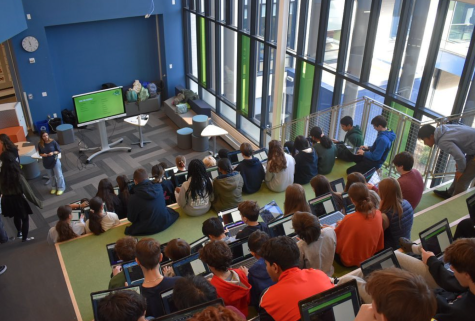 For over a month, the Harriton Computer Science club met twice a week to organize the trip and assign each member a different technology item to present. Club members were instructed to keep their presentations simple and entertaining for their audience, who had only started learning about computer science a few months prior.
After introducing the club's purpose, members, and computer science topics to the fifty students in each session, the group broke out into stations to discuss and display different technology items including drones, raspberry pis, micro bits, Arduino, 3-D printer, and python turtle, which is a graphics coding language. 
Each station taught a group of seven to ten students about their piece of technology. At the same time, the presenters answered the middle schoolers' questions about what pursuing computer science looks like in high school and beyond. 
The excitement of the middle schoolers, and especially their engaging questions for the presenters, inspired Mr. Busza and the Black Rock teachers, who said this was a wonderful experience for their students; it gave them a "taste" of the interesting technology and computer science that they can engage in at the high school level.
This trip was successful in promoting various computer science classes to younger students. In the meantime, the Harriton Computer Science Club is looking forward to their visit to Welsh Valley Middle School on January 18, where they hope to continue sparking students' interest in technology.