Dr. Harriton 2023: Gugi Sola, Jordan Pearl, and PJ Kozloff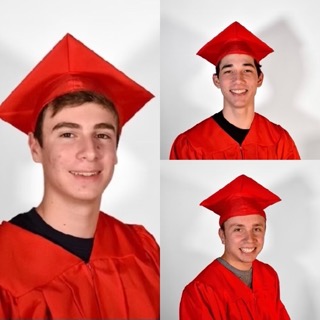 Dr. Harriton, one of the most cherished and exciting traditions at Harriton, is returning this year for another fabulous show. An entirely student-led talent show in which ten contestants compete for the title of "Dr. Harriton" to raise money for various charities, this event always brings the Harriton community together. This year, the show is focusing on The Bethesda Project, assisting homelessness in Philadelphia, and The Lower Merion Scholarship Fund, supporting LMSD graduates in their post high school endeavors. The theme is "The High School Experience," and it will feature nine senior boys and one junior boy, all of whom will have their own unique talents but come together as one for the group dances and overall performance. We were fortunate enough to receive intel from three of the ten participants, Gugi Sola, Jordan Pearl, and PJ Kozloff, on their experience with Dr. Harriton so far!
The Harriton Banner: What sparked your interest in participating in Dr. Harriton?
Gugi Sola: Originally participating in Dr. Harriton was never even a thought in my mind, but after seeing last year's show, I started to consider trying out. I saw how much of a family they were as a group last year and I wanted to be part of something similar. After talking with some of my friends, I found out that two of them – Eli and Joey – were also planning on participating. Knowing that I would be doing the show with some of my closest friends sealed the deal for my decision.
Jordan Pearl: My brother was a contestant in 2019, and he said it was a great experience, so I decided to do it because of him. 
PJ Kozloff: I considered being a contestant for a little but was never going to actually do Dr. Harriton until the last day we could submit the form to interview for a role. I was convinced by my friends to do it and I have been fully committed since.
THB: What are you most looking forward to with this show?
GS: I am looking forward to showing everyone what we have in store. We have been working endlessly every week, and we are all really excited to put on the best show.
JP: I'm looking forward to my act. I've never actually performed in front of a crowd like this. 
PK: I am most looking forward to putting on a really good funny show that everyone will enjoy. I think that everyone will love the dances, videos, and acts that the contestants have. 
THB: What do you think will make this year's Dr. Harriton unique?
GS: …We have some incredible acts, and I believe this year the choreographers have stepped up the level of dancing. For a group of boys who never danced before this experience, I think we are looking really good.
JP: I think there is a lot more preparation and hype for it this year. 
PK: I think that the dancing and the overall energy brought by us contestants will make this year's show the best ever…
THB: What has the experience of preparing for Dr. Harriton been like for you so far?
GS: My Dr. Harriton experience thus far has definitely exceeded my expectations. Going into it I knew it was going to be a huge time commitment, which it has, but every minute is worth it. Everyday I look forward to practicing and seeing the group, and I definitely don't regret my decision to join.
JP:  It's been really fun. I look forward to going to practice everyday. 
PK: Preparing for Dr. Harriton has been a lot of work but it has also been very fun and rewarding. I remember when we first started practices we all had no idea what we were doing dancing but we made a lot of progress and we are all dancing experts now. Everything has been so much fun, and even though learning everything was a little difficult, we all still had a lot of fun and this is the best group of people.
THB: Could you share any funny rehearsal stories?
GS: One funny story was when the partners first started practicing with us. The first thing we did was show them our dancing, and they were shocked because of how funny and good we were.
Another story was when we did a run through of one of our dances and Eli added a really cringe explosion sound effect to the end of the recording and we had no idea till it played. We all started dying when it played because it was unexpected and everyone immediately knew it was him who added it.
PK: I have a couple, first off we started making TikToks where we try and guess who will get person of the day, which is given out at the end of practice to the person who did the best, or brought the most energy, or did something good. You can check them out @spiderman_manspider on TikTok. Another story is that we always get yelled at for not bringing enough energy when doing our dances, so Giuseppe and I came up with the idea to go all out and bring as much energy as we can to make all of our dance moves for one of the songs as big and energetic as possible. It doesn't look very good, but it gets a good laugh out of people, so we do it every now and then when we get yelled at for not bringing enough energy.
THB: What is a lesson that you learned throughout this process?
GS: I have learned that stepping out of my comfort zone and taking risks has endless rewards. I am extremely grateful to be part of this experience as I am making friends and memories that I will have for the rest of my life.
JP: A lesson I've learned is to be resilient. Some of what we do is difficult, but if we put the work in, it looks really good. 
PK: I've learned that it takes a lot of people to make a show like Dr. Harriton happen, and I have gained respect for a lot of people with how much work they have been putting in to make the show the best ever. Everyone works so hard, but a lot of it goes unappreciated, or is just all behind the scenes, which I had never thought about before until being a part of the show. The art people, the film crew, the lighting/sound people, the choreographers and the officers do so much more work than I originally thought.
Dr. Harriton's tight-knit community is sure to elicit a great deal of school spirit, as it does year after year. We cannot wait to see what Gugi, Jordan, PJ, and the other contestants have in store for us. You do not want to miss out on watching these incredible acts. February 24th – be there!