Dr. Harriton 2023: Joey Beh and Alexandros Pratsos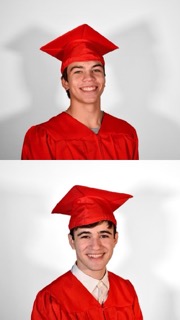 The 16th annual Dr. Harriton, full of dancing, antics, and talented acts, is right around the corner! Each year, ten contestants put themselves out there and rehearse from November through February in order to entertain the students of Harriton and raise money for some great charities – this year the Lower Merion Township Scholarship Fund and the Bethesda Project. They compete for the title of "Dr. Harriton," and with this year's theme being "The High School Experience," they are also competing for the coveted "valedictorian" title. I spoke with two of the contestants, Joey Beh and Alexandros Pratsos, to learn how their Dr. Harriton experience is going so far. 
The Harriton Banner: How would you describe the experience of being part of Dr. Harriton?
Joey: It's something I wouldn't trade for the world. 
Alexandros: I'd say something the same. It's overwhelmingly positive.
THB: What have you learned from the experience so far? 
Alexandros: What have I learned? I learned a lot about dancing, having more energy, not just doing the moves, but, like, really performing. And I've learned some fundraising techniques because it's really hard to get money from people. So I've learned how to present myself and what we're doing to get people involved.
THB: What would you guys say your favorite memory has been so far?
Alexandros: There was one day where we did cooking. We made cookies for Bethesda [the Bethesda Project, which provides emergency shelter and supportive service for individuals experiencing homelessness in Philadelphia], so that was a fun night. We were doing something good for the community, but also we were having fun, and we were messing around a little.
THB: Why did you want to be part of Dr. Harriton?
Joey: In middle school, Eli [Catania] and I thought it would be such a funny idea to do our school's variety show. Old Town Road was the hit song of the time, so we thought it would be really funny to go up and dance to it. And so we did. And then Eli posted it on YouTube. It got like 20,000 views. I thought that this would be something we could do again.
Alexandros: I thought the show was really cool. I never thought I'd do it. And then this year I started talking to people who had done it, like Jason Dichter. After I asked him questions about what it is like to be a contestant in the show, he told me I had to do it.
THB: What would you say is your all time favorite Dr. Harriton act? 
Joey: This is tough. I'm trying to think. Philippe is pretty legendary.
Alexandros: I was going to say that.
THB: Who is involved in making the show happen?
Alexandros: …There are ten contestants and ten partners on the stage, and also student council members that volunteer, and HHSTV, who film all these videos and put it all together… You don't see everybody, but even though there's only 20 people on the stage, there's, like, 100 people behind the scenes, and the rest of the community sells out the auditorium.
Joey: They help out the show by donating.
THB: If someone who is thinking of doing Dr. Harriton next year is reading this article, what advice would you give to them?
Joey: I would say, don't second guess yourself. Do it no matter what. You will not forget this experience, and it is something I will remember forever. I think a lot of athletes reading this might think, "oh I'm not a theater kid. I can never dance or sing," or any of that kind of stuff that they might think goes into Dr. Harriton. You don't have to be anything to do Dr. Harriton. Anyone can do it. 
Alexandros: I second that. I think that even if you are saying, "I have too much work, or I have too many activities," you'll still fit the time in. 
This year's Dr. Harriton is going to be extremely exciting, and it is definitely something to put on your calendar. Show out February 24th to help support great charities, and have the time of your lives watching Harriton's most iconic tradition.