Science, Not Silence — 2018 Rally for Science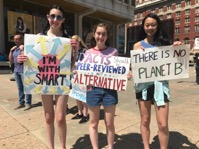 On Saturday, signs came out, depicting drawings of the earth, lab beakers, and the slogan "science, not silence." The heat drove away any lingering wishes for summer weather to come back. Thomas Paine Plaza was filled with what looked like a hundred people of all ages bearing posters, wearing brain-shaped hats, and strolling around at Philadelphia's Rally of Science, held by Philadelphia Science Action.
One of the best parts of attending any political event is reading all the signs and posters. Of course, there were lots of signs criticizing President Trump and current politicians' environmental policies (or lack thereof), but there were also many posters urging women to enter science fields and scientists to run for office.
Around noon, bands played bluegrass music, and from 1:00 to 3:00 pm, the ten speakers gave speeches at the Board Game Art Park. Because of the heat, people started to gather in the shade of the Municipal Service Building.
It is no surprise that most of the speakers mentioned climate change and the importance of conserving energy. The speakers were a mix of scientists and science activists and referred a variety of topics.
A former Health Commissioner of Philadelphia, Walter Tsou spoke about medical consequences of pollution and climate change.
Laura Guertin, Professor of Earth Science at Penn State Brandywine and blogger, who talked about the importance of science in classrooms asserted, "We need everyone, scientists and non-scientists alike, to have a basic, fundamental understanding of science, of the process of science, and to have the confidence to share and communicate science from sources that are current, reliable, and unbiased."
Steve Luxton, spoke next about his position as the Executive Director of Energy Coordinating Agency, a nonprofit organization that provides free energy conservation methods (such as sealing doors more efficiently or fixing leaks) to low-income Philadelphians, and Patrick Callahan, CEO of CompassRed, spoke about the future of technology.
CompassRed is a company that uses algorithms and data as marketing tools, such as for artificial intelligence (one of the hottest topics in science today). Callahan talked about the built-in biases that get inside data and carried throughout society, such as those in facial recognition technologies or decision-making algorithms.
The last three speakers were local high school students planning on pursuing careers in science. One senior girl in high school talked about increasing opportunities for girls, who are still underrepresented in STEM fields.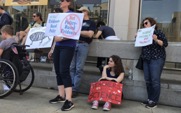 This year's Rally for Science was organized by Philadelphia Science Action (PSA). PSA was created after the much bigger March of Science on Earth Day (April 22) last year when future PSA organizers decided that these important issues needed to stay around. This year's rally was a smaller event because PSA wanted to shift the focus from marching to taking actions such as funding scientists and their projects.
Other marches were held in Washington D.C., New York, and many other cities, but had lower turnout than last year as well. Raising awareness is important, but real political change is the main objective of PSA.
Kim Beidler, an organizer for Rally for Science, spoke by phone about the goals of PSA and why science should be involved in politics. 
"At the very fundamental level, evidence-based thing, relying on facts, relying on a set of data isn't as important as it used to be, and I think it has consequences all throughout in everything we do, whether that be what you are taught in school to the programs that get divined and implemented," Beider explained.
Harriton students — Rebecca Soslowsky, Kayla Finn, and Sarah Xi — also attended the event. All three girls are current juniors at Harriton.
"I've been wanting to get involved more politically," Kayla Finn explained, "with the upsetting nature of [current] politics, in my view. I support the environment, obviously, and I think that we should try to protect it, or else eventually we're going to kill a lot of people. So this [rally] is a way to show my support and get involved."
Kayla, who also co-organized the National School Walkout at Harriton last month, has been writing to Pennsylvania Congressmen and Governor Wolfe about her views on the environment and current environment-related policies. She has received several (albeit brief) replies.
Rebecca Soslowsky agreed and described one of the most empowering parts of the rally for her.
"There were a few petitions that we as minors were able to sign, which I think is really important, showing how many people are on lists for things. Because although we can't vote, there are still other ways we can get involved. … It felt really empowering … [in addition to rallying and marching] to do something tangible," Rebecca said.
This was her second social justice march or protest; she and her family attended the March for Our Lives in March.
Referring to the various activities offered at the rally (signing petitions, writing to lawmakers, etc.), Sarah Xi concurred, "It definitely helps."
Many petitions protested the actions of Scott Pruitt, the recently appointed head of the Environmental Protection Agency (EPA) who has been sharply criticized for various reasons, including corruption. At least one petition called for Pruitt's resignation.
All three Harriton girls affirmed that they would like to come to the Rally for Science again next year.
"I wish that more people went to this event. I think that not a lot of people knew about it; it wasn't really well publicized. So hopefully if it happens next year, then more people will be there. And yeah, if I'm able to, I'd want to go," Rebecca Soslowsky concluded.