The Oscars: No Host Proves No Good
On Sunday, February 24, the Dolby Theater in Los Angeles hosted Hollywood's biggest night: the 91st Academy Awards. Many notable celebrities were in attendance, including singer/actress Lady Gaga, director Spike Lee, and athlete Serena Williams. Although beaming with star power and potential, the ceremony ultimately fell flat without a host.
After the original emcee, Kevin Hart, was removed from the post due to past homophobic tweets, the Academy decided to go without a host, a move that many filmmaking fans questioned.
Although viewers were promised a show full of funny skits and clips, along with many celebrity appearances, they were treated to an underwhelming ceremony that dragged on and was not engaging.
From the repetitive clips of the Best Picture nominees, to the many lethargic and unenthusiastic presenters, the Oscars felt like a jumbled mess that lacked the glamour and glitz of previous years. The show was even dubbed with a new hashtag, "#WhoCares".
But even with the many hits the ceremony took this year, there were still some enjoyable moments. For one, Tina Fey, Maya Rudolph, and Amy Poehler's opening monologue provided a good laugh, as the three actresses themselves poked fun at the show's chaotic nature.
Later on, Melissa McCarthy (Can You Ever Forgive Me?) & Brian Tyree Henry (If Beale Street Could Talk) presented the award for Best Costume Design, dressed up in a hodge-podge of costumes from the nominated films.
McCarthy wore a rabbit cape, paying tribute to The Favourite, adorned with a cowboy hat from the film The Ballad of Buster Scruggs, topped off with a Mary Queen of Scots inspired hairstyle.
On the other hand, Henry wore the classic hat and scarf from the movie Mary Poppins Returns, as well as face paint and African-inspired clothing based on Black Panther. Their comedic take on this year's extravagant costume design was a nice moment of light-hearted humor, something rare in this year's show.
Maybe the most surprising moment of the night came during Lady Gaga and Bradley Cooper's performance of their hit song, "Shallow", from the movie A Star is Born. The duo's chemistry was instantly evident, as they gazed adoringly into each other's eyes, belting out their song about the beginning of a romance.
Many viewers and celebrities thought that Gaga and Cooper's performance was inconsiderate and uncomfortable, considering Cooper's partner, Irina Shayk, was present at the ceremony. Others found it to be a beautifully executed number that provided a happy ending to Gaga and Cooper's on-screen characters, who faced a much more dismal fate.
The ceremony was also able to make up for its lackluster production and slow pace with many of the winners. This year's Oscars saw a distinct shift in the way that diversity was honored, straying from previous years that were donned with infamous hashtags, such as "#OscarsSoWhite."
This year, three out of four acting winners were of color: Rami Malek (Bohemian Rhapsody), Regina King (If Beale Street Could Talk), and Mahershala Ali (Green Book). Additionally, Ruth Carter won Best Costume Design and Hannah Bleacher won Best Production Design, both for their work on Black Panther.
This was historic, considering that they are two out of three Black women who have won an Oscar in a non-acting category. Along with these historic wins, Mexican director Alfonso Cuarón won both Best Director and Best Cinematography, and legendary director Spike Lee was awarded Best Adapted Screenplay for his film, BlacKkKlansman, his first ever Oscar statuette.
Although the show was able to make many steps forward, many found that the winner of Best Picture set the ceremony back. When it was announced that Green Book had won the top prize, many were surprised, especially considering the many controversies surrounding it.
Leading up to the 91st Oscars, Green Book had received criticism for its portrayal of Southern race relations, as well as portraying the lead, White character as a "savior" to the Black community. 
Other shocking wins during the night included Olivia Colman, awarded Best Actress for her work in The Favourite. Going into the show, Glenn Close seemed like a lock for the category, after she had garnered many prestigious awards in the preceding months.
Close came up empty-handed to the British actress, making her the most Oscar nominated actor (seven nominations), without a win. Also surprising was Spider-Man: Into the Spider-Verse's win for Best Animated Feature, beating out big, Disney films like Incredibles 2 and Ralph Breaks the Internet.
Nonetheless, the 91st Oscars could be equated to a sigh, with a sluggish ceremony that made up for it in the large strides it took to establish a more diverse, inclusive future.
About the Contributor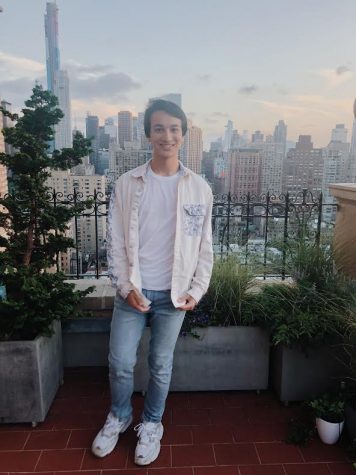 Ty Nagvajara, Executive Editor
Harriton senior Ty Nagvajara is very excited to become the Co-Executive Editor for The Harriton Banner this year. Last year he worked as the Arts &...