10th Grade Teachers' Perspectives on De-stressing the Education System
In our previous article, we discovered that students are full of complaints and criticism about their sizable workload and the rigorous responsibilities handed to them by their teachers. The majority of students feel an exorbitant amount of stress due specifically to excessive homework, frequent testing, and complex topics to learn. Although teachers are not the ones whose grades depend on the school work they produce, their jobs depend on them teaching the material and curriculum effectively so the produced work is sufficient enough for a decent grade. 
Some of the teachers we interviewed expressed the presence of stress and a need for change, while others spoke about how the current methods being used are proficient for gauging the students' progress in a particular course. Teachers' perspective on the outdated and stress-filled school system is often overlooked and misinterpreted. We want to bring the teachers' perspectives to light so we can learn about their feelings and thoughts on the current school system we are in.
Similar to the student study, we asked each of the teachers the same two questions so we could get an accurate depiction of the general impression of the current school system. The first question we asked the teachers was a multiple-choice question, "On a scale of 1-5, how stressed have you been with juggling work and your outside work life?" The scale represents one being the lowest level of stress and five being the highest. 
There were definitely notable differences between student and teacher responses.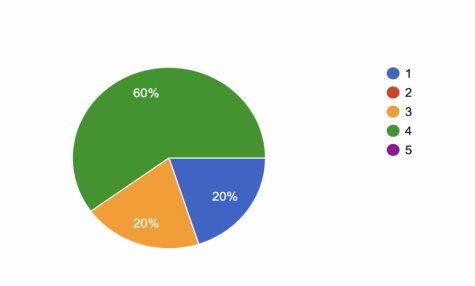 On one hand, 20% of teachers chose one for their level of stress, while not a single student did. On the flip side, a third of the students selected five while not one teacher picked this option. Still, teachers are still not entirely stress-free; 60% of the interviewed teachers chose four and another 20% chose three to represent their level of stress.
We also asked the teachers to reply to a written response question: "Does a focus on testing and grades make your job as a teacher more challenging than it needs to be? Why or why not?" 
The purpose of this question was to acquire a more in-depth response regarding their feelings on what current educational methods need reworking. From the responses we received, some teachers believe the current education system is functioning as it should. Other teachers feel tests and grades are focused on too heavily, making their job more demanding. The responses we received were as follows:
Anonymous: I think that the challenge is more nuanced than that. For me, the challenging [aspect] comes from trying to prepare solid dynamic lessons while also keeping up with grading and retesting.
Mrs. Kate Witman: Yes. Understandably, students feel pressure to prioritize their higher-stakes courses and assignments. This leaves little time for more creative, interdisciplinary, and non-traditional approaches to education. In addition, it devalues the impact that a variety of authentic learning experiences could have on a student's life (now and for their future).
Anonymous: Not really. It allows me to see the skills and content knowledge of my students. It also allows me to gauge where I need to focus, whether it is skills-based learning or content learning. Testing is an important tool and experience for everyone involved in the classroom.
Ask a teacher about their views on change. More times than not, they might just be on your side for a shift in education. From our research, we have concluded that students tend to feel more stress associated with school than the teachers do, but teachers also have their fair share of anxiety. This should be a sign for most American high schools to design and implement a less stress-filled education system. A less outdated education system could also lead to a drastic improvement in the student mental health epidemic. What will you do to make change achievable?