A Win for Democracy: the Trump Indictment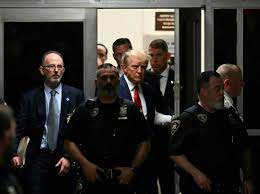 For the first time in United States history, a former president has been indicted with a crime. Former President Donald Trump has been charged by a grand jury with 34 felony charges, for falsifying business records when paying hush money to a woman named Stormy Daniels. 
When Trump began considering a run for president in the 2010s, he decided he had to cover up sleeping with Stormy Daniels in the penthouse at the Harrah's Lake Tahoe Hotel in 2006. His solution was making hush payments to her through a shell company set up by his attornney, Michael Cohen. Trump then paid Cohen back, concealing these payments as legal expenses. Typically, this might be considered a misdemeanor, but Manhattan district attorney Alvin Bragg brought the charges as felonies because he argued that Trump's actions were used to cover up other crimes, such as violating election laws. 
Donald Trump's responses to these indictments have been nothing short of dangerous. He has called for his supporters to "take the nation back," continuing the dangerous rhetoric he started when he lost the election in 2020. The former president's supporters have launched protests as a response; there was intense shouting back and forth between his supporters and opposition when he was brought in for his arraignment. Additionally, Alvin Bragg was sent threatening envelopes containing a white powdery substance. 
In my opinion, Bragg's case is a major win for democracy. It shows that no one is above the law, including former presidents, and there is no doubt in my mind that Trump has committed many crimes throughout his career. However, there are some concerns I have with this case, including the mixing of federal and state laws. This is a state case against Donald Trump, however Trump's campaign was a federal campaign, meaning that any illegal activities would have to be charged by a federal court. Bragg argued that the payment to Stormy Daniels was a donation to the Trump Campaign and helped to shut down any opposition in the weeks leading up to the election; this payment was also above the highest donation limit set by the government. While a federal court could charge Trump for possible violation of election law, Bragg's case remains a state case, and cannot actually take action on laws in the federal territory. The case is set to go to trial in 2024, and it will be fascinating to see how it plays out, especially in an election year where there is the possibility that Trump is convicted and can still win the presidency.