On March 9, 2023, Freedom House, a US based non-profit, released its annual Freedom in the World report, which ranks every country and territory in the world on its citizens' "access to political rights and civil liberties." Tibet, officially known as the Tibet Autonomous Region (TAR), is ranked dead last. After nearly 75 years under Chinese jurisdiction, Tibet has seen its political, economic, and social freedoms deteriorate steadily, but that decay of liberties is now accelerating at an unprecedented pace.
Essential Background:
Tibet is very much a land of superlatives: it is located on the Earth's highest plateau; it is home to the eight largest river systems in the world and some of the tallest mountains. It is a land rich in history, dating back to the Tibetan Empire, which reached its heights in the late 8th century. Since then, it has been a hub of Buddhism in Asia, specifically Tibetan Buddhism.
This religion plays a significant role in Tibet – both politically and socially. In fact, since 1391, the country has been ruled by the Dalai Lama, a spiritual leader believed to be a reincarnation of Avalokiteśvara, a significant deity in the religion. Every Dalai Lama is believed to be a reincarnation of the previous, dating back to the very first. 
Tibet is full of physical manifestations of its Buddhist roots: monasteries, palaces, temples. Its capital, Lhasa – Tibetan for "place of the gods" –, contains some of the most renowned architecture that the country has to offer, the most famous of which is the Potala Palace, a UNESCO world heritage site.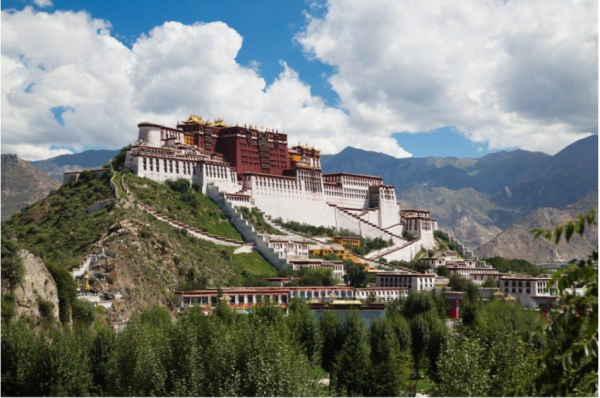 A Brief Recent History: 
In early October 1950, as PLA infantry waded through the Mekong River, they had effectively
crossed their own Rubicon. The die was cast; Mao Zedong's "Peaceful Liberation of Tibet" was in full swing, part of the CCP's larger plan to restore China's power in the surrounding region. For Tibet and its sovereignty, though, the Battle of Chamdo was the beginning of the end.
After the signing of the Seventeen Point Agreement in May of 1951, which effectively placed Tibet under China's control, conditions in Tibet quickly deteriorated. Public resentment of Chinese socialist policies culminated in an all-out revolt in 1959, known as the Tibetan Uprising. The PLA brutally suppressed the revolt, and the current Dalai Lama fled Lhasa, the capital. After this, the Chinese government dismissed the Seventeen Point Agreement, and adopted a far more oppressive role in what would, from then on, be known as the Tibet Autonomous Region.
In the decades following, conditions in Tibet only worsened, especially as China ramped up its communist agenda through a series of programs. The notorious Great Leap Forward, communist China's failed attempt to transition from agrarian to industrial society, resulted in a nationwide famine, which brutally afflicted the Tibetans; some even labeled it as an act of genocide. In addition, the Cultural Revolution, Mao Zedong's attempt to realign the country with his communist ideals, saw the annihilation of any item even remotely associated with traditional Tibetan culture and religion. 
Current Atrocities:
Communist China has mobilized a massive effort to sinicize Tibet by any means necessary. It is no secret that China has encouraged the migration of Han-chinese citizens into Tibet, and, despite only making up 8% of the population, they hold the "overwhelming majority of the top party." Such disproportionate authority is eerily reminiscent of the South African apartheid regime, in which, despite being the minority in the country, white South Africans held all political power.
China has also accelerated its war on Tibetan culture, pruning Tibetan youth of their language and religion at earlier ages than ever. Now, government-run boarding schools are waging a campaign of cultural cleansing on Tibetan children, as young as four and five. This, too, is almost exactly what the United States and Canada did to Native American youth, in the now-notorious American Indian Boarding Schools. 
Perhaps even more disturbing, due to its novelty and terrifying potential, is China's extensive Tibetan DNA harvesting project, in which blood samples from Tibetan kindergarten students are taken coercively. In a classic instance of capitalist-driven ignorance, Thermo Fisher Scientific, a U.S company, has provided China with the means to do so: millions of DNA test kits. This mass collection of biometric data, especially considering the sinicization that China hopes to establish in Tibet, is ominous, to say the least. Unfortunately, it would not be unlikely if it is the precursor to, or simply a part of, a modern day genocide.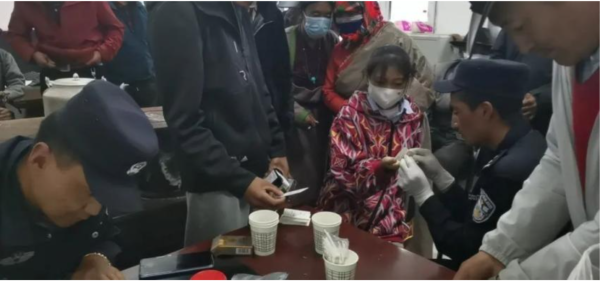 What Is Being Done:
The Tibetan cause is certainly not a lost one. There is still activism on all levels, especially in countries with high Tibetan populations: India, Switzerland, France, Canada, the United States. With all the ongoing conflicts in the world, though, the most crucial aspect of the Tibetan independence movement is awareness. Indeed, with the ever-important role of social media as a source of information, the torch is being passed. In Students for a Free Tibet (SFT), a global grassroots organization mobilizing support for Tibetan liberation, a new generation of Tibetans is rekindling the embers. With 650 chapters in over 35 countries, SFT is rejuvenating Tibet's cause on a global scale. 
I spoke with the president of the Philadelphia chapter of SFT, Jigme Thupten, who is a senior at Harriton High School. Acknowledging the slim chances of success of any separatist movements inside Tibet, either diplomatic or militaristic, Thupten stressed the importance of external activist organizations like SFT; "Our goal is to raise the price of occupation, so that it is not worth occupying Tibet anymore. I believe it is our only hope." He also emphasized the crucial role that social media plays in SFT's activism, exhorting anyone who is interested to reach out to SFT Philly on Instagram. Still, Thupten encouraged in-person activism: attending protests in Philly or interest meetings. SFT welcomes individuals from all backgrounds; Tibetan heritage is not a prerequisite.
Personal Statement:
I will admit; it may seem odd, or even bewildering, to some that I, with no real relations to Tibet, am involving myself with its cause. There is, without doubt, a case to be made in that argument. However, I would posit that such isolationist perspectives are inherently self-serving, and, consequently, they completely disregard the human experience which we all share on this Earth. By choosing to exclude yourself from an issue purely on the basis of demographic relation is ignorant; it is the recipe for that damned repetition of history which so many warn of, and so few act to prevent. 
There is a reason why after the Armenian people, it was the Jewish people, and then it was the Cambodian people. For the same reason, the Tibetan people are suffering the same fate. That reason is human ignorance. It seems we suffer from a severe historical amnesia; each and every time, whether it be Rwanda, Ethiopia, or the Uyghurs (another ethnic minority in China), we hear the footsteps of genocide, at first ever so quietly, then hurried and pounding, and then, when it arrives, we are idle, stupefied by the invisible hand of history, when in fact there is no such thing. It is our own hand, the world's hand, that is omnipotent. We must train it to smother the all-too-familiar march of genocide. That can not happen until we see the world's problems as our own.