Girls Tennis Wins State Championship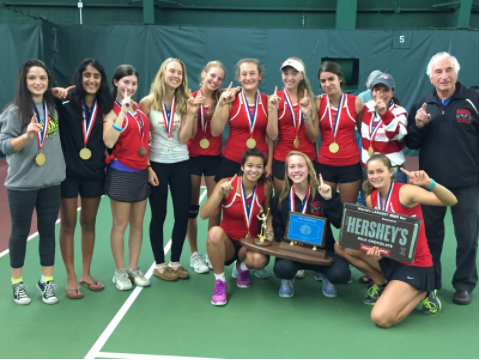 Sophia Sassoli, Staff Writer
November 11, 2016
Two weeks ago in Hershey, Pennsylvania, the Harriton Girls' tennis team went into the weekend prepared to compete for a state championship.  Nerves and excitement were high as the girls talked about making it to the finals this year; one round better than the previous year, where the Rams lost in the semifinals.
The teams' first round in Hershey (the quarter-finals), took place at 2 pm on Friday, October 28.  The Rams faced off against Mount Lebanon, a strong team from Western Pennsylvania.
Wins from the singles players Sophia Sassoli, Connie Richards, and Nina Hoog gave Harriton the 3-2 win and a berth into the semifinal round.
The semi-finals took place on Saturday morning. The Rams faced Easton, the reigning District 11 champions.  Sofia Kandoussi and Lauren Binnion won their match at first doubles 6-4, 6-0; Sonia Groeneveld and Shaina Ginsberg won their match at second doubles 6-1 6-1; and third singles player Nina Hoog won her match 6-0, 6-1 to decide the match and give Harriton 3 points and a place in the finals.
The first and second singles matches were left unfinished, though Sophia Sassoli was leading 6-4, 2-0, and Connie Richards was leading 6-2, 3-0.
The finals were played later that same day.  The Rams were set to battle the three time defending state champion North Allegheny Tigers, who had amassed an impressive team match record of 93-1 over the past four years, and a perfect record during this past season leading up to finals.
Despite being the obvious underdogs, the Harriton girls did not back down.
Sonia Groeneveld and Shaina Ginsberg brought in the first win for Harriton at second doubles.  Sophia Sassoli finished next at first singles, defeating North Allegheny's Anna Li, committed to play for Harvard Women's Tennis, 6-2, 6-2, to bring Harriton to a 2-0 lead.
However, the first doubles team and third singles faced tough losses to experienced opponents, tying the match at 2-2, and leaving all eyes on Connie Richards and Tina Li (a Naval Academy commit, and sister of North Allegheny's first singles Anna Li).
The pressure was on in this deciding match, and the second singles players split sets, with Richards winning the first 6-4, and Li winning the second 6-3.
With tense cheers erupting after every point, Richards took an early lead in the third set, going up 3-1.  Li fought hard to tighten the set at 4-3.  However, it was not enough; fueled by her teammates, Richards was able to go up 5-3, 40-0.
After two match points saved, Richards closed the match and brought her team their very first PIAA AAA State Championship.
The girls rushed the court, and celebration ensued.
At the awards ceremony, the girls received a trophy to keep at school, a five pound Hershey chocolate bar, and individual medals for their accomplishments.
Alternates Roshni Parikh and Emma Anisman as well as Captains Kit Meiler and Izzy Lushbough were there to celebrate with their team, along with coaches David Broida and Laura Fanelli.
"The State Championship was always something that we had in mind from the start of the season, but until last night it wasn't something that we thought we could actually win.  Last year we were close, but we were soundly beaten in the semifinals, so it still seemed far off.  To win the championship with this group of girls in my senior year is an indescribable feeling," team captain Sonia Groeneveld said.
When reflecting on the season, all the girls mentioned how close they were as a team, how well they worked together, and attributed their success to these factors.
"This championship was a total team effort.  When the doubles competition was tough and we needed the singles to step up, they won all their matches.  And when we needed the doubles teams to step up against teams with top singles players, the doubles teams pulled us through. What really made this win very special was the fact that it wouldn't have been possible without each and every girl on the roster," continued Groeneveld.
Harriton Girls' Tennis' entire season, and their victory at the PIAA AAA state championship–the first AAA state crown for Harriton–was truly a team effort!