Athlete of the Week: Olivia Conrad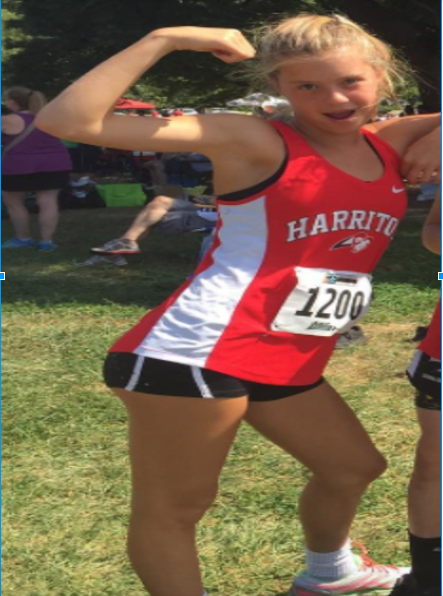 Hang on for a minute...we're trying to find some more stories you might like.
Olivia Conrad is a very talented athlete. In the fall, she runs varsity cross country (as a freshman!), in the winter, indoor track, and in the spring, she plays her primary sport lacrosse.. The Athlete of The Week Team managed to score an interview with Conrad, and was able to get a quick glimpse into the life of an all-star athlete and hear about her inspirations and goals.
Harriton Banner: What made you want to run?
Olivia Conrad:  When I was younger I was having trouble deciding between my main sport, basketball or lacrosse. I remember saying to my dad that I really wanted to run, and I like the challenges of the quick bursts of speed that was necessary. I chose lacrosse for these reasons and got really into running. This is what led me onto my track career. Also, a big influence in my decision was my older sister Claudia, who previously did track. She loved it, and I thought that I would love running as well.
HB:  What are some of your greatest accomplishments in sports?
OC: I would have to say that one of my greatest accomplishments was making cross country varsity as a freshman. I ran a lot over the summer and got really good, and once I came to school I placed in the top 7 for harriton runners, and made varsity.
HB:  Do you have a role model, and or, someone who inspires you when it comes to sports?
OC: My sister Claudia because she also made varsity as a freshman for cross country and lacrosse and I want to strive to be like her.
HB: What are you the best at in running?
OC: I am very good at keeping up a good pace. Also I am very competitive, and this helps a lot for being aggressive on the track."
HB: What event do you usually run?
OC: The 4×800, which is a relay race.
HB: What is the hardest challenge that you have had to overcome in a sport?
OC: Never stopping. When you run and you have to meet certain times it is hard to keep a good mindset and a positive attitude. If you don't, it becomes very hard to carry on with what you are doing.
HB: What is something you look forward to in high school sports?
OC: Although I love track, I am most excited to try out for the lacrosse team. Lacrosse is my favorite sport, and I hope that I can make varsity.