Athlete of the Week: Roberto Lesser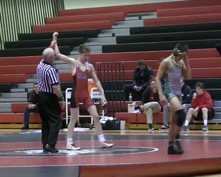 This week's athlete of the week is wrestler Roberto "Bobby" Lesser. Bobby is a freshman, but his age has not placed a limit on his ability. He was recently named First-Team All Central League, the only wrestler this year to do so. He has been a star wrestler for most of his life and has been ranked nationally. The Athlete of the Week team was able to sit down with Bobby and score some inside information on his journey to becoming such a succesful athlete.
Harriton Banner: What made you want to start wrestling?
Bobby Lesser: My dad wrestled in college and in high school and he got me into the sport. He wrestled for Lehigh.
HB: Who is your biggest role model?
BL: I don't really have one, but if I had to choose one, I would say my dad. My dad has mentored me and taught me to wrestling ever since I was young, and he is one of the main reasons that I wrestle.
HB: When did you find out you made first team all central league?
BL: My coach told me that I made it during practice, and I was very happy to hear it. I am the only one on the Harriton wrestling team to make it this year, and that is a big accomplishment for me.
HB: Did you have to work really hard to make that first team all Central League?
BL: Kind of. I mean I had a broken foot for half the season so that was a very big setback. I ended up recovering just fine though and making it. Being able to make the first team all Central League while missing half of the season was a really hard thing to do, but I managed to pull it off.
HB: What is your usual ritual, if you have one, before a match?
BL: Before every wrestling match I usually psych myself up and jump around a little to get my adrenaline flowing. I usually don't eat heavy meals before matches either so I do not upset my stomach.
HB: What are some of your greatest wrestling accomplishments?
BL: Obviously one of them was making first team all Central League. Another big thing is that when I was 13 I went to nationals for wrestling. Also, this season I went 16-2 despite having a broken foot and missing half the season.