Luke Glickman: Athlete of the Week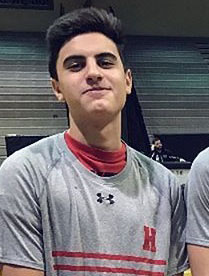 Senior guard Luke Glickman has earned Athlete of the Week for his outstanding game against central league rival Radnor on Saturday, January 20th.
Glickman scored 20 points, as the Rams won in a nail biter 63-60. It was senior night and Glickman reflected on his basketball career at Harriton.
His favorite memory was beating Upper Darby last year and says he will "miss the culture." A clear sense of nostalgia was felt by him, as he remembered playing with former players like Tyler Allen, Will Esposto, Kev Sanchez, and Jon "Jonny Spitz" Weinstock back in 8th grade.
After a stellar performance, the guard earned a spot in the Philly.com newspaper. Here is what Luke had to say about everything that is going on with the team and the new expectations instilled by coach Kyle Sample.

"We have a great group of guys and we have all become close. While we may be struggling, I think that our program is definitely trending in the right direction. Sample is doing a good job of creating discipline and our captains and my good friends Charlie, Drew, and Bugbee have led the team and motivated the younger guys."
Clearly, things are looking good for the Rams basketball program. A new coach seems to have brought new hope to the team.
Glickman noted that he has "greatly enjoyed playing basketball at Harriton," and "hopes to come back next year and witness an even more developed Varsity team."
If you have not yet done so, congratulate Luke on getting in the Philly.com sports section and on his continued success with the basketball team. But more importantly, come out to the next upcoming games, as they will be crucial if the Rams want to extend their year into the postseason.