Overcoming Injury
A few weeks may seem like a long time to be injured. A few months is even worse. But if you're out for a whole year due to an injury with no proper explanation, how could you keep hope of returning? Today, I had the chance to meet with senior Mike Strauss, a returning varsity cross country runner who overcame injuries he was plagued by this past year.
Back in the spring track season of his sophomore year, Strauss had a successful season. A few personal records and the proud belief that injury could no longer affect him after recovering from an IT band injury during the indoor track season.
As he normally would, Strauss began to start his summer training for cross country in the fall, a season where he would say farewell to the upperclassmen he had ran with and shared memories with during high school. Shortly into training, he began to notice a pinching feeling in his foot and immediately sought medical advice.
After a few doctor visits, an MRI was performed and the results displayed a stress reaction on his foot. It was treated as a stress fracture, and, for eight weeks, he was put on crutches and told to stay off of his foot.
Eight weeks went by and the start of preseason for cross country was underway. While he was able to provide moral encouragement at a few practices, seeing his teammates train and improve made him yearn to be back. He was missing out on the memories, experiences, and the enjoyment of running with a team he so deeply cared for. 
Eager to make his return, Strauss went back to his doctors only to find out that he needed to wear the boot for eight more weeks. As his peers became faster, stronger, and developed more endurance, and the cross country season was fading out of view, Strauss soon realized his return might not be so imminent.
Even worse, his other foot began to develop the same issues. After a few more doctor visits, Strauss was crutching around the hallways of Harriton with two boots and lost hope in returning to run during cross country. Alongside this, the medical professionals still had no proper diagnosis or cause for his issues.
He knew his situation looked bleak, but unlike most people in his situation, he remained devoted to make his return.
While the school year steadily went by, Strauss remained calm in his situation. It was emotionally challenging to give up the sport he loved so deeply, physically challenging to crutch around everywhere, and socially challenging to not be able to rekindle the friendships he created during his past seasons as a Harriton runner.
Even through all of this, though, Strauss was able to find the inner drive to return to running and never lose hope in a situation that felt like a lost cause.
Fast forward to the present, Mike is currently returning back to his former self. Entering his senior year, he is looking forward to making a rapid progression back to where he was before his injuries. Strauss hopes to break 17:30 in the 5k this season and break 4:55 in the mile during the track season, two events he hasn't run since his sophomore year.
Even though he is just returning, Strauss has already taken big strides in his training after making through summer running and preseason injury-free. With these goals in mind and the restoration of being reconnected with his team, Mike has finally returned and is ready to make a comeback season. 
Sitting down with Mike demonstrates how positive motivation keeps us going even when situations seem abysmal and out of control. Strauss remained calm and dedicated towards making a return and should be an inspiration to all athletes in how motivation and drive towards achieving success in our sports can carry us through any hardships or injuries.
For all athletes, remember that the first step in injury recover is injury prevention. Stay healthy, and, if you begin to notice any problems developing, see a medical professional immediately—who knows how much longer Mike could have been in the boot if not for that.
And for all athletes and non-athletes a-like, Mike's story should empower you to continue to work hard for the sport, club, job, or hobby you love; make the most of the time you have with the people you do it with, and enjoy every step.
But for Strauss' remaining time as a Harriton Harrier, injury will make the comeback all the sweeter.
About the Writer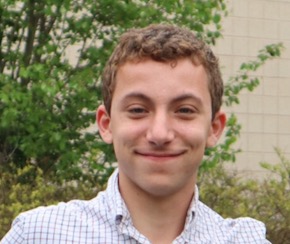 Scott Blender, Sports Editor
Scott is a current senior and sports editor for the Harriton Banner. Scott is also an active member in the Harriton community. He is a varsity XC athlete,...