Harriton Golf Team Post Season Results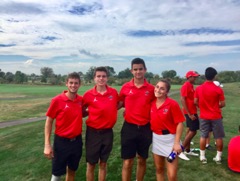 One hundred and fifteen golfers from every team in the Central League gathered on Wednesday, October 2nd, to compete in the one day-18 hole league-championship tournament. It was a hot, dry, and tough day for this Central League Championship at Turtle Creek Golf Course, which made the conditions more challenging for the golfers in the field.
The Rams had 12 players qualify to compete in this tournament and hoped to have at least a few players move on to the next round—potentially even further. The top golfers from both the boys and girls divisions would then move on to the District 1 tournament.
Senior Captains Andrew Wallace and David Fitzgerald both qualified for the next round with Andrew finishing in 8th place with a score of 78, and David finishing in 18th with a score of 83.
Senior Jay Ramaswamy and Junior Niosha Parvizi also played great golf with Jay coming in 13th place with a score of 80, and Niosha coming in 4th place out of all the girls with a score of 82. With these impressive scores, Jay and Niosha also qualified to compete in the next round.
On Monday and Tuesday, October 7 and 8, the four players went back out to compete at Turtle Creek Golf Course (Boys) and Raven's Claw Golf Club (Girls) in the District 1 Championship to vie for a spot in the East Regional Championships next week.
The competition was even stiffer this time, and since it was a two-day tournament, golfers had to play well enough and make the cut to continue the second day. Andrew Wallace and David Fitzgerald both made the cut shooting a +3 (75) and +1 (73) respectively.
Niosha Parvizi and Jay Ramaswamy were fierce competition to the other players, shooting an 89 and 81, but unfortunately, their scores were not high enough to proceed to the next round. Regardless of this loss, the two golfers had terrific seasons.
Andrew and David both played great on day two as well, and finished the tournament with combined scores of +3 and +9 respectively. Both scores qualified for top 10 finishes and a spot in the next round of the playoffs.
The East Regional Championships is October 14th at Golden Oaks GC. Both Andrew and David hope to continue their strong performances and represent Harriton at the State Championships for the second year in a row.
The Harriton Golf team entered 2019 with loads of talent and one of the strongest teams that they have ever had. With a record of 9-2 in the Central League, the golf team took full advantage of its talent. This season has lived up to its promise.