Athlete Of The Week: Saige Roshkoff, Girls Tennis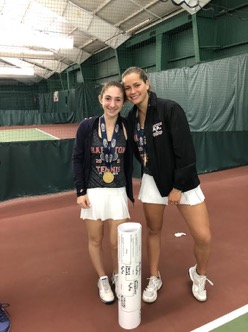 You've probably heard her name before. She's among the top-ranked tennis players in the Middle States. In her tennis career, she and her teammate won the state doubles title. She's a Harriton Rams Tennis star. Today, I had the honor to interview the one, the only, Saige Roshkoff, who is one of Harriton's top athletes.
HB: What is your most memorable experience from your time playing for Harriton Rams Tennis?
SR: My most memorable experience playing tennis for Harriton was winning two state titles last year. It was so much fun being able to compete alongside my friends, and it was an experience I will never forget.
HB: What are you most proud of from the season so far?
SR: I am most proud of how supportive the team is for each other. We have a great group of girls, and everyone has a great attitude and cheers on one another.
HB: Are there any challenges that the girls' tennis team is experiencing or expects to experience this season?
SR: It has been challenging losing a bunch of our top seniors from last year. Also, our second singles is out with a shoulder injury.
HB: Are you optimistic about continuing the team's reputation into this season?
SR: I am very optimistic about continuing our strong reputation. We had a three way tie for first place in the Central League, and our first district match is on Monday. This year is definitely tougher than last year, but our team will fight hard and do our best to be just as successful.
 HB: How has tennis made an impact on your life?
SR: In life, tennis has taught me to put my best foot forward and to practice until I can't get it wrong. I have learned to fight for each point and not look at the end until I get there. Tennis has also given me a lot of great friendships. It connects me with like-minded people.
As the Harriton tennis team progresses this season, we look forward to more all-star performances by Saige Roshkoff.