Team of the Week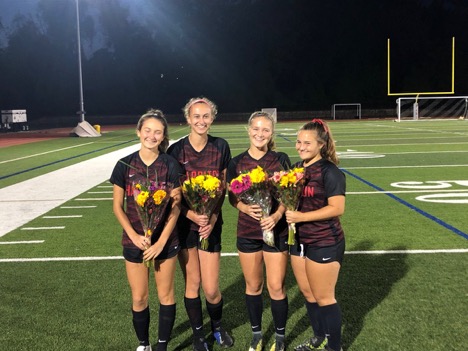 First soccer game of the season. Sweat was dripping down players necks due to the constant stalemate between each team. It was neck and neck going into the second half, with Interboro and Harriton both with 1 goal each. As the half concluded, both teams were still in a draw, causing the game to go into overtime.
Minutes into overtime, Harriton's striker , Grace Honeyman, scored a goal that would seal the deal for the team's first win of the season. The positive momentum in this game would carry into the rest of the season for the girls.
Here is how it went.
The team defeated  Academy Park on September 27th, by a score of 7-0.
After a 3-1 victory against Notre Dame Academy, the girls team moved to 2-1 for the season. Again, the game boosted the girls' confidence and led them to the central league matches against Garnet Valley, Lower Merion, and Haverford.
Unfortunately, both Garnet Valley and Lower Merion triumphed against Harriton. Both central league losses, while upsetting, helped motivate the girls to work harder for their next game.
Haverford and Harriton clashed on September 24th. Led by junior, Ashley Wald, and senior, Alex Turner, the girls outlasted Haverford 1-0. The win restored the girls' confidence and winning trend, leading them to win 2 out of their last 5 games, victories against Academy Park (7-0) and Marple Newtown (3-0), respectively.
On October 15th, the girls defeated Marple Newtown in a whopping 3-0 game on their senior night. In addition to the team's iconic win, senior athletes Grace Honeyman, Kari Stein, Taylor Shinal, and Alex Turner were honored at the game.
It's a bittersweet goodbye to these student athletes. Although the Harriton girls soccer team is excited to watch their teammates continue to succeed beyond high school, they will miss the seniors' hard work and dedication on and off the field.
After the victory on Senior Night against Marple Newtown, the girls can walk away from the season knowing they put a great deal of effort into each game and remained a constant threat in the Central League.
While the season was not exactly what the girls had hoped for, their power and unity as a team throughout each game proved how the team is moving in an upward trend each season. Led by seniors Alex Turner, Grace Honeyman, Taylor Shinal, and Kari Stein, and junior, Ashley Wald, the team dominated against Marple.