Athlete of the Week: Sam Kartsonis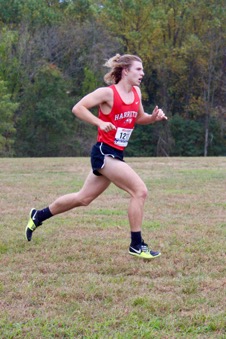 This week, I had the opportunity to talk to my friend and one of Harriton's top athletes: Sam Kartsonis. Sam is now a senior, but has run both track and cross country since his freshman year. It's an understatement to say that Sam has achieved much in his sport: He is the 2nd place finisher at the Central League Championships, a top-25 medalist from the Pennsylvania State Cross Country Championships, the list goes on and on.
But it's not just all of his awards and accomplishments that makes Sam our Athlete of the Week. Running is in Sam's blood—it has shaped who he is today by making a strong imprint on his personality and character. Here's what he had to say when I talked to him about his Harriton running career.
HB: What is your most memorable experience in running Cross Country and Track at Harriton?
SK: There are a ton of moments that come to mind. Through my experience as a runner at Harriton, I've gotten the opportunity to meet people and make memories with so many awesome people from seven different graduating classes in the school, from the seniors during my freshman year, to the freshman during my senior year.
The one moment from this past cross [country] season that stands out was when I found out that my teammate and training partner, Finn Glew, had also qualified for States at our district meet at Lehigh. I personally did not have the best race that day, but to know that I was going to get the opportunity to travel up to Hershey and toe the line with Finn was really incredible.
In the excitement of the moment, I ran over to the starting line of the JV race and lead our JV team through our pre-race chant one last time.
HB: What accomplishments are you most proud of from your time running at Harriton?
SK: Finishing 2nd at the Central League Championships. Going into the race, I was really just hoping for a top five finish and the ability to earn First Team All-Central League honors. I am friends with a lot of the top guys around the league, and I know from racing them so many times throughout the years that they are really talented athletes; with this, I decided that a more conservative race plan which puts more emphasis on the final mile would be ultimately more beneficial.
This decision to be more patient in the beginning stages of the race by staying in the lead pack was also influenced by the fact that I had run poorly at the meet last year when I lost a ton of ground in the final kilometer of the race, eventually costing me twenty-plus seconds and four places.
This failure in the previous year pushed me to do more hill workouts and workouts at Rose Tree [the location of the Central League Championships] in the summer so I could better visualize the race beforehand. All of this ended up paying off as the strength I had built through these workouts really started to show as I was able to run away from the lead pack right behind Sean Garret from Garnet Valley and finish the race ten-plus seconds in front of the next fastest runner.
What really made the moment special was seeing some of my old Harriton teammates such as Jan Terwiesch, Derek Goss, and Farzam Mir cheering me on as I crossed the finish line. Celebrating with them and my teammates was a great culminating moment to four years of running at Rose Tree and putting in countless hours of running and visualizing the course in my head.
This race was also a huge confidence builder for me as I was able to use the momentum I had built from Central League Championships to earn a medal by placing in the top 25 at the Pennsylvania State Cross Country Championships.
HB: How have you dealt with balancing both school work and athletics throughout the school year?
SK: As much as I would love to say that balancing running and school has been a Herculean effort, and that running is the reason for my non-perfect GPA, I honestly think that running has helped me become a better student.
The time I spend running is a really great opportunity to hit the metaphorical reset button on a long day at school. It also provides an opportunity to put my energy into something else and come back to my homework after burying myself in running for a couple hours.
In addition, I think the mental fortitude I've developed as a runner has also been integral to being a student who takes classes which are too hard for him, as running has taught me to be comfortable being uncomfortable and has helped me to develop the perseverance needed to not give up when the going gets tough.
The way I see it, school gets in the way of running more than running gets in the way of school. Honestly, the lack of sleep and time from having to stay up and do school work has had more of an impact on my life and that has been the thing that has been most difficult to balance.
HB: How have you been personally impacted by running?
SK: Alright folks, get ready for an essay. Anyone who knows me knows that running is a huge part of my life. If you see me in the hallway or pretending to do work in the library, there is an 80% chance I'm either logging a run from the previous day, looking at maps of runs from freshman year, or thinking about running in some way, shape, or form.
I really love all the different aspects of running: from long runs in nature on a Saturday morning, to hard intervals on the track, to fearlessly competing in what I believe is the purest form of sport. Running is something that gives me the opportunity to allow myself to be myself.
Aside from that, what I think sets running apart from other sports is the people and opportunity we get while on runs to simply talk. I find that being on a run is one of the few places where I can talk with others without the distraction of phones and computers. The lack of these devices allows for a very natural form of interaction which is really refreshing.
I think specifically back to some of the early days of my high school experience where my group would go out for runs and just debate a topic and, over the course of the run, get lost in the depths of Bryn Mawr or Gladwyne because we would not concede our opinions on something that, in hindsight, was so inconceivably meaningless.
We'd also go on runs where only one person would talk and that individual over the course of the run would describe—in ridiculous detail—either a book they had read or a movie they had watched just for the sake of entertainment.
These are the small, funny things that running has brought to my life. And when I'm older and have achieved that round belly that comes when runners stop running, it won't be the medals or races that I'll remember but the conversations and the relationships I've made while running.