Athlete of the Week: Ashley Wald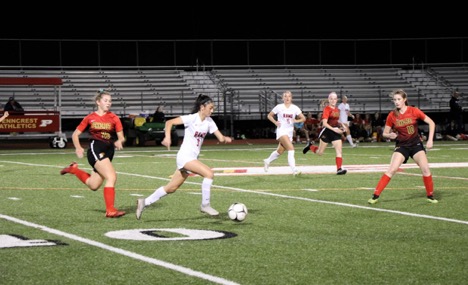 Last Friday, I sat down with junior Ashley Wald, who plays offensive center mid, to discuss her experience as a varsity member of the Harriton Girls Soccer Team.
Ashley began playing soccer for the Lower Merion Soccer Club when she was four years old. Encouraged by her parents, Ashley became an active member of LMSC and began to develop her love for the game. From these beginnings, Ashley has developed her hobby into a competitive skill, joining Harriton's team her freshman year as a varsity player.
Joining the team presented Ashley not only with a challenge in adapting to new teammates, but also in adapting to the rigor of a student-athlete lifestyle.
However, as Ashley became a more integral part of the team and built relationships with her teammates, her team also became like a  second family. Her newfound friends and social life translated to camaraderie outside of soccer, leading to long-lasting friendships. 
"On or off of the field, I knew my teammates would always be there for me, whether it was a simple hello in the hallways, or going out to team dinners and bonding over hard-fought wins."
In addition to adjusting to a new team, Ashley also realized how challenging it was to manage sports with academics. 
Ashley said, "At first, managing a workload filled with multiple honors and APs, in addition to multiple hours a day spent on the field, seemed daunting. It took awhile for me to properly realize how crucial time management was in achieving success both on the field and in the classroom. Being a student-athlete really taught me to emphasize maintaining a schedule that would work with both soccer and school work."
Through learning and applying proper time management skills, Ashley is now able to balance soccer and academics.   
Ashley's consistent hard work is helping her stand out on the girls varsity team. She has been leading her team to many victories throughout her Harriton soccer career. Notably, Wald led Harriton to a playoff win against Unionville, upsetting them 2-1. 
"Scoring the game-winning goal allowed me to walk away from the game with the satisfaction of leading my team to an impressive victory."
As a fellow student athlete, speaking with Ashley reminded me of the importance of team-bonding and time management. With her persistence and dedication, Ashley will continue to succeed in soccer and academics, while also keeping room for a social life with her team and classmates. In the years ahead, Ashley plans to play as a collegiate-level athlete, but her legacy as an MVP on the Harriton soccer team will remain.