At Full Throttle
Harriton Boys Cross Country Team 2020 Recap
A tumultuous bang reverberates across the grass field. Suddenly, a horde of runners rushes forward, sweeping everything in their way. Arms and legs fly in different directions, and spikes kick back and forth, sprinkling mud everywhere.
To some, this is their first time hearing such a command, pushing everyone to run as fast as possible; to others, this is just another usual day. While they all come from different backgrounds and abilities, they all have one mission in mind: to get to the finish line as fast as possible and make their team proud.
With COVID-19 cases surging, the Harriton boys cross country team was unsure of a 2020 season. However, this did not keep them hesitant, with many running a large sum of miles over the three-month break. With summer already closing and pre-season in action, the boys were happy to hear that their hard work over the summer would not go to waste: the Central League had permitted the team to run in 4 league meets.
With the good news in their minds, the boys' team set forth the primary goal of placing top 3 at the Central League Championships, occurring on November 7th. However, in order to prepare for such a daunting challenge, the team had to surpass their opponents on their 3 league meets, scattered throughout the month of October, in order to prove to themselves that such a goal is possible.
The team's first tri-meet kicked off the season with a bang, in which the boys raced against Springfield and Penncrest at the infamous Rose-Tree Park. The squad performed smoothly, with frontrunner Leo Perlstein leading the pack with a solid 17:39 first-place finish.
Fellow teammates Joseph Chalissery and Owen Short were not far behind, placing 4th and 6th respectively. Although some on the team had bad races, they were able to fulfill their main mission, which was to win the meet, with 10 of the 12 runners completing the 3.1 mile course in under 20 minutes. 
With an early-season win, the boys moved onto their next meet on October 24, challenging two of the toughest teams in the league: Lower Merion and Haverford Township. While the squad was easily able to beat Marple Newtown, they fell short behind the latter two.
Despite foggy and humid conditions, the top 7 were able to average 17 minutes and 55 seconds, not too far behind Lower Merion's 17 minutes and 12 seconds and Haverford's 17 minutes and 29 second average. Once more, junior Leo Perlstein was the team's top finisher, finishing in 17 minutes and 16 seconds; good enough for 4th place overall.
The team was able to execute a phenomenal pack strategy, with senior Finn Glew finishing in 10th place, and junior Joseph Chalissery placing 11th; senior Aaron Trader in 17th and junior Owen Lester in 18th; and sophomore Jack Rickards and juniors Bennett Schwarz and Chris Seelig finishing 24th, 25th, and 26th respectively.
After a 2nd place finish among 4 teams in their next league meet on October 31st, the boys ventured to the biggest meet of the season—the Central League Championships—where they would face every team in the league. What was unique about this year's race was that it was split into two heats: top 5 runners in the first heat, and the next 2 running in the second heat.
Even though there were some challenges in this procedure, the boys were able to end the season feeling proud of themselves. Through intense heat and humidity uncommon in November, the boys were able to claim a 4th place finish among 12 teams.
While they were not able to fulfill their goal of being top 3 in the league, 3 members of the team, Leo Perlstein; Finn Glew; and Owen Short were all able to earn All-Central League honors. However, it's not over yet for Harriton Cross Country, with only 2 of the top 7 graduating. Only time will tell what the team will achieve next season, and that level of anticipation is immense.
About the Writer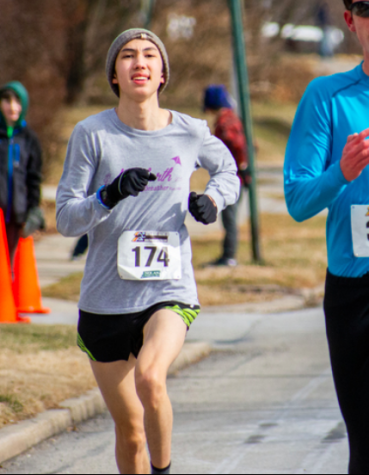 Nat Benioff, Staff Writer
Nat Benioff, a senior at Harriton, is new to the Banner this year and looks forward to contributing articles to the sports section. He enjoys writing for...