COVID Knocks The Harriton Boys Basketball Team Out For The Season
This past February, the varsity boys basketball team was alerted of the surge in COVID cases within their team. Immediate sadness fell over these players, who had embraced the season they were given, despite the intense restrictions.
According to Lower Merion School District's COVID-19 dashboard, there were 22 new student cases for the week of February 15th, the majority of those coming from the boy's team. Due to the influx of cases, the team was forced to shut down and quarantine.
After speaking to a few players from the Harriton Rams varsity team, we learned of the emotions the boys felt after hearing the news of their season being canceled. "I felt miserable, not being able to finish the last couple games of the season and possibly compete for league and district championships really sucked." Nate Johnson, junior forward described.
Not only was losing basketball a huge letdown, but Nick Masterman shared his panic for his teammates, health-wise: "I was scared for my teammates who had tested positive'.' Nick, a senior captain on Harriton's team, felt shocked after hearing the news. "We knew that it was a possibility but we never thought it would've happened to us."
After a fantastic season last year, with a statement buzzer-beater win against Lower Merion that had the student section screaming, the team wanted to go out and perform this season yet unfortunately it doesn't look like that will be happening.
While the ending of the season was definitely not what the players had in mind, there were still some great moments. The Rams were able to pull off a win on their senior night, and Nick shared his appreciation for being able to have that moment: "We didn't have many games so being able to win on senior night, especially as a senior, was really cool."
Nate Johnson also spoke about beating Marple Newtown on senior night: "We played as a team and pulled out a good win over a solid team."
Masterman is sending off his team with hopes for them to make it to the league and district playoffs next year. The entire boys' basketball team is hoping to come back next year, out of the pandemic and ready to win games.
About the Writer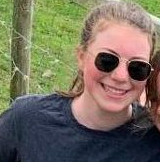 Lily Durant, Staff Writer
Lily is a junior at Harriton and this is her first year writing for the Banner. Lily has been obsessed with sports from a young age, especially football....