Blue Microphones' Mikey Digital Turns iPhone into High-Grade Recorder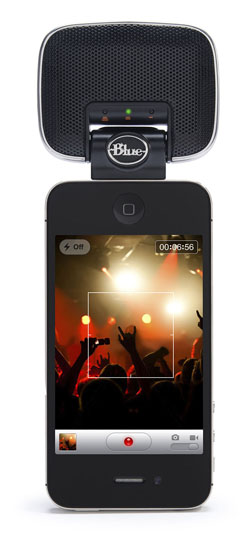 By Kevin Hunt
No, that is not a black-with-silver-trim tumor growing from my iPhone's 30-pin connector. It's Mikey Digital, a snap-on stereo microphone from Blue Microphones that, using the right app, records at CD quality — including, with the included adapter, your amazing shred-guitar virtuosity.
But who really needs it, especially for $100? No one needs the tumor, an instant iPhone fashion downgrade. Mikey Digital's arrival also coincides with the latest iPhone, No. 5, and its new-look connector. The familiar 30-pin look is gone, which means an iPhone 5 owner who purchases Mikey Digital also would need Apple's $29 Lightning-to-30-pin adapter. The tumor, and expense, just got bigger.
The iPhone and iPad already have built-in monophonic microphones, which is all anyone needs for note-to-self voice memos. Mikey Digital, however, expands the possibilities of mobile recording.
It uses two, as in stereo, condenser microphones for on-the-fly recording. The guitar/instrument jack, or another electronic device like another iPhone, a cable box or even an ancient CD player, connects to an input on Mikey Digital's silver bottom for direct recording.
Mikey Digital has settings for loud and soft sound sources, with an all-purpose auto mode that I found suitable for most recordings. Inside the tumor, aside from the microphones is a preamplifier to boost the signal and a converter than reshapes the recorded analog sounds into the Apple devices' digital language.
Lil' Mikey pivots, but it's still awkward to maneuver and operate. When you're ready to record, especially when recording a conversation, you'll also turn the iPhone/iPad.
Once the signal reaches the iPhone or iPad, Blue Microphones leaves the rest to you. Which recoding app? The Voice Memo app seems wasteful: If you're going to use it, why not just stick with the iPhone or iPad's built-in microphones? I tried Mike Digital with GarageBand ($4.99), FiRe ($5.99) and, perhaps most interesting, soundAMP R ($4.99), all available at the iTunes store.
Although I didn't record live music, I simulated a live recording with an audio system. I also recorded music directly from an iPod Touch to the Mikey-equipped iPhone. With my preferred app, FiRe, I could make a recording, then feed it into my computer using the app's iTunes Sharing feature in multiple formats. This revealed Mikey Digital at its best.
Some people will like Mikey Digital's convenience. For high-quality live recordings, though, I'd much rather have a dedicated pocket-size recorder like the Zoom H1 Handy Portable Digital Audio Recorder (also $100, samsontech.com).
The soundAMP R app made me reconsider Mikey Digital as something else altogether — a tool for the hearing impaired. Aside from recording sound, this app also amplifies it. When paired with Mikey Digital and headphones or earbuds, it becomes an effective means to hear a conversation in a noisy setting like an office or restaurant.
It might not be as good as a hearing aid, but it will eliminate background noise while making the voice of the person across the table clearer, louder and more understandable.
For many people, that will be $100 invested smartly.
MORE INFORMATION
What: Blue Microphones Mikey Digital audio recorder for iPhone, iPad and latest-generation iPod Touch.
Cost: $100, bluemic.com
Hot: A snap-on microphone that turns an iDevice into a high-quality recorder.
Not: Clumsy, not compatible with iPhone 5 without Apple's $29 Lightning adapter. Requires purchase of recording app of user's choice. Possible learning-curve troubles, depletes iDevice's battery power.
©2012 Chicago Tribune