Cool Things IB Students are Doing for C.A.S.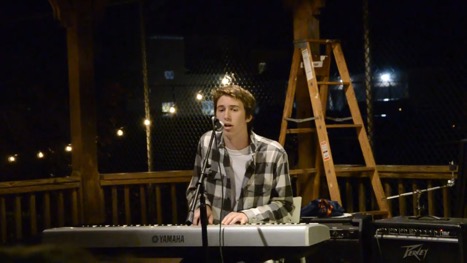 CAS; Creativity, Activity, and Service; is an IB requirement that all IB students must embrace at the beginning of their junior year. Students must incorporate their current extracurricular activities as well as involve new ones to meet the requirements. Here are some cool ones that people have been doing so far:
Max Flora: Max is a talented musician who has a passion for striking just the right chords. He plays both the piano and guitar and is an exceptional singer, featured in both the choir and popular a cappella group, "Pitch Please." This year, Max created "Square One," a band that performed in both the Rap Slam concert as well as Made on the Main Line. Max plays the keyboard and sings for the band. His excitement is always obvious, "Music is my passion. I just love it man." We at Harriton hope to see Max on the big stage one day!
Alvaro Jodar: Alvaro is a senior here at Harriton, and took a very creative approach to his CAS assignment. Him and a couple of other IB students attended tango dancing classes as their creative piece of CAS. Alvaro, originating from Spain, delved into his rich culture and took on a challenge that inspired him to learn more about his country. He said, "It was a great experience. I've become overall more comfortable with my body than I ever was before."
Tommy Trotti:. This summer, junior Tommy Trotti will be attending an internship with Pirelli Tires as a human resources consultant. Tommy aspires to be a politician when he graduates from college, and hopes to study at GW University. He hopes that this internship will teach him to become more effective in dealing with issues that people have, as well as to become more professional, skills necessary for the career he hopes to pursue.
Jack Mendelson: For Jack's creative piece, he joined Mr. Harriton this year. Jack, a talented musician, wouldn't tell me what his talent was, but I expect big things from him. Mr. Harriton is a great example of working collaboratively, which is one of the main goals of the CAS experience. 10 contestants joining together to create a production works great as a CAS activity. Good work Jack!
Samantha Raymond and Melanie Metz: The Starfish Project for Children is an organization that focuses on young children doing service.  Its goal is to encourage kids to discover the internal satisfaction that service creates. There is a program for elementary, middle, and high school kids. The elementary school program focuses on exposure to service and gives out personal service awards to inspire the kids. The middle school program focuses on engagement in service. The high school teen board, which Melanie and Samantha are involved in, is the high school division that incorporates a high level of involvement in service and as well as the teaching of leadership skills. The teen board is even hosting an event at Harriton on March 15th at 7pm to educate parents on everything they need to know about social media and the internet! There will be different specialists like a college admissions counselor and a member of law enforcement to educate parents on what they can see and what the repercussions of internet activity might be! Sam says,"The Starfish Project is such a wonderful program and I feel so lucky to be a part of the teen board, because we are helping the next generation of kids catch the love for service, so it will hopefully make our world a nicer place!"
More information can be found at thestarfishprojectforchildren.org!