Interview with "Women on the Verge of a Nervous Breakdown" Character Candela!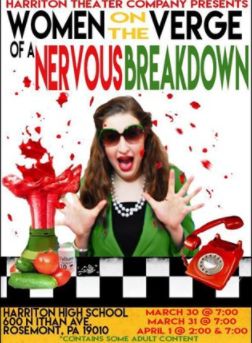 Nina Gold, Staff Writer
March 30, 2017 • 624 views
Hang on for a minute...we're trying to find some more stories you might like.
The Harriton Theater Company's production of Women on the Verge of a Nervous Breakdown is this week, and the Harriton Banner took some time to find out more about the show. The story follows Pepa, a TV actress whose lover has left her with no explanation.
As she desperately tries to contact him, she becomes entangled with his crazy ex-wife, and their son and his fiancée. Meanwhile, Pepa's best friend, Candela, is frantic due to the fear that her newest boyfriend might be a terrorist. The banner asked Candela some questions to find out more.
Harriton Banner: How did you meet your boyfriend, Malik?
Candela: It was one of the most beautiful things that has ever happened to me! Really, there has never been a single experience like it. I was at the bar with my boyfriend at the time, and I happened to catch his eye. Next thing I knew, my heart was racing and he was by my side and it was love at first sight!
HB: What happened to the man you were seeing at that time?
C: Who?
HB: Can you tell us about your friendship with Pepa?
C: Oh, she's a lovely person! We've been friends forever, and I really think I've helped her improve herself a lot. I mean, I'm a model, so she's been able to observe someone who has excellent taste in clothes. Actually, some of her clothes are so nice now that I like to take them for myself! She also is always completely willing to make meals for me, and she's wonderful to talk to about my problems with. Like Malik.
HB: There have been reports of threatening activity going on in Madrid, specifically in your apartment. Have you noticed any of this?
C:  Of course not… Um why would I? No bombs in this apartment! Next question!
HB: What is it like being a model?
C: It's fantastic! They're so lucky to have me. Have you seen me? They'll never get a more attractive model.
HB: Lastly, what can you tell us about Carlos, the son of Pepa's lover?
C: He's indescribable. So sweet, and gentle, and kind! He makes me feel things I've never quite felt before. I think I might be falling in love with him! He'd honestly be much better off with me than his fiancée.
You can see Candela, Carlos, Malik and Pepa and what happens yourself if you attend HTC's production of Women on the Verge of a Nervous Breakdown this Thursday, March 30th (7pm), Friday, March 31st (7pm), and Saturday, April 1st (2pm & 7pm). Tickets are available at harritontheater.com, and are being sold at lunch and learn for $4, and $6 at the door for students.