Emma Danz: Enhancing Rather Than Changing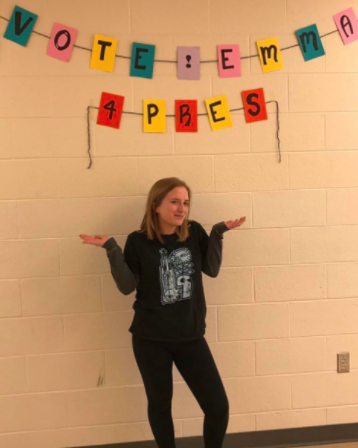 Daseul Kim, Spotlight Editor
April 4, 2017 • 1,217 views
Hang on for a minute...we're trying to find some more stories you might like.
The author of this article, Daseul Kim, our spotlight editor, is also the campaign manager for Andrew Kofsky, Emma Danz's opponent in the presidential race.
From co-chairing the Student Council Events Committee, to leading the lighting department for Harriton Theatre Company, even to mentoring the freshman students, Emma Danz is an addition to the candidates running to be Harriton's next Student Council President. Danz has revealed her campaign emphasis on "enhancing rather than changing," as she hopes to enhance what the student body loves about Harriton and be a dependable president for all students. We were able to ask Emma some questions and get to know her as a presidential candidate.
Harriton Banner: How would you describe yourself?
ED: I would describe myself, firstly, as someone who does not necessarily like to describe herself; I wrote and rewrote this answer so many times for fear of doing it inadequately. I know who I am and I know the person that I strive to be: that person is kind and compassionate; they know how to share a lot of responsibility with a lot of laughs; they know when to talk and they know when to listen, they are capable and strong.
Harriton Banner: What made you decide to run for president this year?
ED: I think that I have always known I wanted to run for president which is why I no longer remember the specific thought process involved. I have always naturally assumed leadership roles. In fact, I am a lead member in every activity I participate in. I have a hard time justifying a commitment that isn't complete and passionate, so I don't put myself in a position to have to.
Harriton Banner: What makes you a great leader?
ED: I have a good grasp on people, understanding them and their consequent group dynamics. As a leader, I am able to highlight strengths while simultaneously supporting weaknesses. I have never been just a delegator but rather an active participant in the work that needs to be done. Specific to student council, I have valuable experience with all of the committees – not just the one I am a part of.
Harriton Banner: How do you plan to lead the student body?
ED: Successfully!
Harriton Banner: What does your campaign platform consist of?
ED: My campaign platform is rooted in attainable, positive changes. Every year, students get up and promise a lot of things everyone knows they cannot follow through on. I have no interest in standing onstage and lying to the entire school, so I won't. Instead, I want to promise ideas and values that you can count on. I want to continue pushing the envelope, making our already successful events even more successful.
The graduating officers have left big shoes to fill with a record breaking Mr. Harriton and an exciting new event, Made on the Mainline. I am confident that I am the person to fill these shoes. I know that the 11th Mr. Harriton will continue to set records and I know that we will continue to strengthen the success and the scope of Made on the Mainline. It is my hope to expand the latter further, creating a carnival-esque atmosphere that highlights and includes all interested clubs.
I want to make sure we have three well-executed pep rallies that support the clubs performing and the team's playing. I can also assure you that these pep rallies will bring the Latin Club back to the limelight, because it just doesn't feel the same without them. Similarly, a couple of the candidates and I have discussed the possibility of a homecoming celebration which would cultivate spirit and give everyone an excellent reason to come support the Rams.
Above all else, I promise constant, proactive communication with administration about issues that are important to students. For example, I know many of us have been affected by a shortage of parking spaces. That is a problem that I am excited to discuss, and hopefully solve with administration. I cannot promise what will come of these conversations and what is realistically within our realm of power. However, I ensure my attention to prevalent problems and encourage anyone to reach out with suggestions or concerns.
Harriton Banner: What do you love about Harriton?
ED: I love the way that we rally around really positive things.There's a stigma about high school and the judgement that you are supposed to face by your peers or by upperclassmen. I haven't found that at Harriton. We are able to encourage a culture that supports hard work and commitment, no matter the way that manifests on an individual basis. I mean, the biggest event at our school is one that donates thousands of dollars to charities. It's a night where ten contestants put themselves out there in a really brave way and they are met with cheers. That's incredibly special.
Harriton Banner: What would you change about Harriton?
ED: Honestly, my campaign is more about enhancing than changing. However, I hope to change the way we discuss spirit, or the lack thereof. In my opinion, this only serves to further the divide that students feel between the spirit that we have and the extent that we express it.
Harriton Banner: What would be the easiest way for students, interested in getting to know you and your campaign more, to reach out?
ED: I would love for people to reach out in whatever way makes them comfortable – email, text, carrier pigeon; honestly just come talk to me, I am as far from intimidating as it gets.
Harriton Banner: What message do you hope to send to Harriton students through you running for president?
ED: Thus far the message of my campaign has been, "Vote for Emma." I hope it's working. Being a girl, I feel that there is a certain expectation that I am running on a message of female empowerment. Undoubtedly, I am a proud feminist and a firm believer that empowered women empower women. And, of course, no shock, I am a girl. But, I am not asking anyone at Harriton to vote for me because I am a girl, or the best girl for the job; I am asking you to vote for me because I am the best person for the job.
Harriton Banner: Why should the Harriton student body elect you as our next president?
ED: If you voted for me, I can confidently say that you were voting for the most experienced and enthusiastic candidate. I would not disappoint, I would out do you on spirit days, I would remain committed to your needs. I would shoulder the responsibilities that come alongside this position with a smile on my face.