Max Beck: Preparing for "The Most Fun Year in Harriton High School History"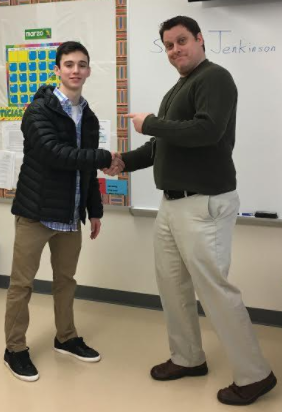 Daseul Kim, Spotlight Editor
April 4, 2017 • 1,280 views
Hang on for a minute...we're trying to find some more stories you might like.
The writer, Daseul Kim, our spotlight editor, is also the campaign manager for Andrew Kofsky, Maxwell Beck's opponent in the presidential race.
Accumulating over 14,000 views on his articles for the Sports section of the Banner, leading Harriton's FBLA for their recent state competition, and fighting for the student body's leisure rights, Maxwell Beck is another candidate running to be Harriton's next Student Council President. Beck's campaign appeals strongly to students' recreation and team spirit as he proposes more freedom for students, specifically, during Lunch and Learn, in exchange for good grades. To learn more, we were able sit down with Beck for an interview.
Harriton Banner: How would you describe yourself?
MB: I am an upbeat and confident individual. I tend to be very decisive and focused, which makes me a great leader. I am also honest and trustworthy. When I am not focusing on academics, I love to hang out with friends, eat at Chipotle and Campus Corner, and play soccer.
Harriton Banner: Please tell us about your past involvement in Student Council.
MB: This is actually my first year in student council, and so far I really enjoy it. I had always been an active member in all of the school events, but I had not realized the contribution that I could make to the school through Student Council. In Student Council, I have: sold concessions at the Quidditch match, sold candy grams and ads for Mr. Harriton, and I worked as a ticket checker at Mr. Harriton.
Harriton Banner: What made you decide to run for president this year?
MB: Actually, I was originally planning on running for Treasurer of Student Council, but I decided to change my plan after a lot of consideration. I saw an opportunity to be president and really make a difference at Harriton, so I decided to change my course of action. As a student of Harriton, I have noticed the few but crucial flaws in our community, and I plan on making a difference.
Harriton Banner: What makes you a great leader?
MB: I am confident and I am focused. I am able to make important decisions. I am also a good listener, which gives me the ability to act as a voice for those who might choose to not speak out for themselves.
Harriton Banner: How do you plan to lead the Harriton student body?
MB: I plan to develop a Google form that is sent to all Harriton students every couple of months. This form will allow the students to give Student Council their opinions on certain events and issues. Also, students will be able to express their ideas for changes throughout Harriton. I also plan on improving pep rallies and improving school spirit in general. I think the Herd saw an increase in spirit this year and I want continue foster that.
Harriton Banner: Why would you like to lead Harriton?
MB: I am not a perfect candidate, student, or individual, and I understand the struggle that a typical Harriton student might go through on a day-to-day basis. Harriton deserves a president that is going to improve student life. I plan on making life significantly better for all of the students at Harriton.
Harriton Banner: What do you love about Harriton?
MB: The education that we receive at Harriton is outstanding, but what makes Harriton truly great is the collaboration that occurs between students and the teachers. Students at Harriton build meaningful relationships with their teachers that lead to improved academic success. Lunch and Learn advances this relationship, as students are able to meet up with their teachers outside of the classroom. I feel like I have been able to achieve academic success because of my ability to work with my teachers, whether that involves seeking extra help or just doing the homework in their classroom during a Lunch and Learn.
Harriton Banner: What can we expect to see in your campaign?
MB: My campaign is centered around fun and leisure. Students at Harriton work hard, and they deserve to be rewarded. I want to make the school a place where students can understand the rewards that come with working hard and staying focused. For example, one of the policies that I want to make for next year is to let students leave during Lunch and Learn if they have frees before or after lunch. This would come with one exception, students would need Honor Roll for that quarter to be able to leave. This idea encourages students to do well in school and allows those students who are already achieving at high levels to receive the fruits of their labor.
Harriton Banner: What would be the easiest way for students, interested in getting to know you and your campaign more, to reach out?
MB: Students interested can definitely reach out to me. I recommend using student email, but I can also be contacted via social media. My Facebook is just Max Beck, my Instagram is @maxbeck_, and my Snapchat is @mbeck223. Students can feel free to contact me in the hallways of Harriton to talk about anything (I don't bite).
Harriton Banner: What message do you hope to send to Harriton students through you running for president?
MB: I hope to show Harriton students that changes can be made to the school. Although administrators make most of the rules, students have the power to change and alter how they go about their academic careers. Students spend a large part of their teenage years in school, and they should be able to tailor their wants and needs to the place in which they spend most of their time.
Harriton Banner: Why should the Harriton student body elect you as our next president?
MB: Putting it simply, I am going to make next year the most fun year in Harriton High School history. I am planning on making policies to let students leave during lunch and have frees instead of gym. Harriton is going to have a Spring Fair next year, and I have made arrangements with the current Student Council officers to add more "hangout" spaces across the campus. I am going to listen to the student body's opinions, and I plan on fulfilling all of my duties as president. I am also going to raise the monetary goal for Mr. Harriton. If students want to alleviate stress and maximize fun, they should vote for me!