These Tape Murals Will Stick With You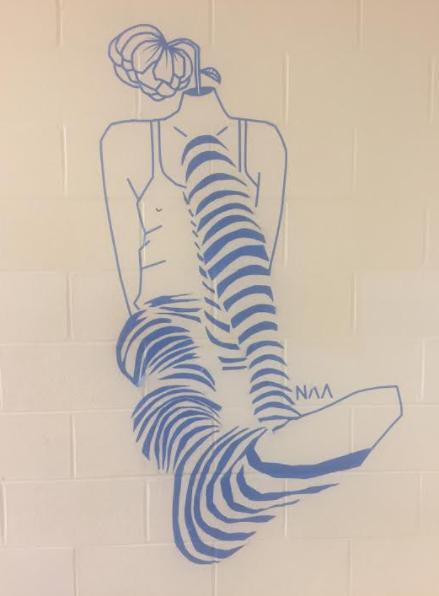 Hang on for a minute...we're trying to find some more stories you might like.
Perspective. It's how we interpret things, and what allows us to appreciate their true value.
By going "behind the scenes" with Ms. Jackson, we developed a new perspective on the tape murals presented around our school. From the polar bear in the art hall to the superman in the lobby, you have probably wondered what these tape pieces were.
We chatted with Ms. Jackson to discover the meaning behind this artwork and the inspiration for this project about perspective.
It is clear from the detail and creativity that these pieces were prompted by something amazing. After sitting down with Ms. Jackson, we learned that she was "inspired by street artists who also use tape to create murals."
Ms. Jackson also thought that it "would be a good way to showcase the art and allow the school community to not only see the work, but to engage with it."
She likes the idea of placing artwork throughout the school and working as a whole community, which is clearly reflected within the positive energy in Ms. Jackson's classroom. This was apparent when she talked about how she "loves the energy of the artwork being out there and loves that it's the students voices."
The creativity and positivity are apparent in Ms. Jackson's classroom, as evidenced through the beautiful art pieces. Students have put much thought into this project; Ms. Jackson said the artists " have done this for 2 years," and she was hoping the tape murals could "become a tradition and something that people look forward to doing."
Fortunately, the idea of a beautiful mural displayed indefinitely in our school might not be far out of reach. According to Ms. Jackson, "eventually, the school might let us paint one permanently." The possibility that the ingenuity of these artists could be preserved on the walls of our school for many years to come is amazing.
When asked about the lesson in class that produced this project, Ms. Jackson responded, "It was part of a lesson on perspective, so the students all had to do their own drawing, and then as a table they voted which ones they wanted to pursue further."
Two classes filled with talented sophomores, a junior and a senior, created, edited and executed their art pieces in a striking manner. Their hard work paid off, as our school is now filled with the work of dedicated students.
After investigating, we learned that these tape murals are not only unique pieces of art, but also hold meaning. The time and effort put into this project is almost tangible, and the motivation is distinct; inspired by street art, these pieces are ones you will not forget.
We hope this article will make everyone appreciate all of the hard work put into these art pieces, and that the school will allow us to paint a permanent mural someday. For now, however, we hope that the message of perspective from this project will stick with the school.