Ram of the Week: Michelle Qin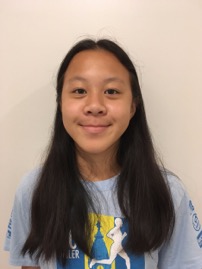 Hang on for a minute...we're trying to find some more stories you might like.
This week, The Banner sits down with Michelle Qin, a junior at Harriton. In addition to being a stellar student in her third year as a high school student, Michelle spends a lot of her time participating in clubs and on sports teams such as Cross Country, Science Olympiad, Banner, Math Club and Debate. Read on to understand the life of this overall busy and great student in the Harriton Community!
HB:  Do you enjoy running, or do you just run because you've gotten so good?
MQ: I started running two years ago, when I joined Harriton cross country, and I've loved it ever since. I've had my fast seasons and my slow seasons, cross country seasons and non-cross country seasons, seasons running with other people and seasons running alone. I've loved it all. You get to see (and smell) so much when you run, and there's nothing in the world like a morning long run in the fall.
HB: Is there anyone you look up to in the running community?
MQ: I don't follow professional running, but I've always looked up to our cross country captains each year, who have always made me feel welcome on the team and really cared about the team and running. They also have awesome running form.
HB: What motivates you to do so well in school?
MQ: I try to stay interested and invested in what we're learning in class, which helps motivate me. Having a teacher who loves his or her subject and teaching it makes it easy for me to catch his or her enthusiasm too.
HB: What events do you do in Science Olympiad? And why?
MQ: This year, I'm doing Anatomy, Astronomy, and Optics. In the past, I've done Cell Biology, Microbe Mission, and Chemistry Lab. I've always enjoyed learning how and why things work in real life.
HB: Do you think the Science Olympiad team will win Nationals?
MQ: (Knocks on wood)
HB: How important is it for you to be a captain of Public Forum Debate?
MQ: I started Debate with my partner Avery when we were in ninth grade, and I've enjoyed learning about, practicing, and debating just about every topic we've had these past two years. I'm really excited to lead Public Forum with Avery this year and see where our team goes!
HB: Where do you see yourself in 5 years? In 20 years?
MQ: In 5 years, I'll be starting my senior year in college (I hope), and I hope I'll have an idea of what field or career I want to go into (probably something in the sciences). Also, I'll be really good at frisbee. In 20 years, I hope I'll be working in a field that I really care about (maybe I'll be a professor?), and I hope I'll still be running or playing a sport.
HB: What is your favorite book?
MQ: Harry Potter and the Goblet of Fire.
HB: What do you enjoy most about your section for the Banner?
MQ: I think we get a lot of freedom in Science & Tech to explore and write about any part of science that we're interested in, and we all support each other's interests and enthusiasm.