Restaurant of the Week: Honeygrow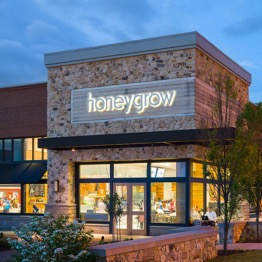 Hang on for a minute...we're trying to find some more stories you might like.
Honeygrow is a relatively new and unique restaurant chain that will provide you with the perfect blend of healthy yet delicious foods, with locations in Bala Cynwyd, Radnor, and Philadelphia. While it does not offer its own delivery, it does have a relationship with Caviar so it is easily accessible to any high school student with a car or who is a member of the Caviar delivery system.
At each Honeygrow restaurant, they offer a touch screen ordering system, which allows customers to quickly put in their orders. If you are looking for a nice or fancy restaurant to dine, then Honeygrow is not the place for you. Although if you just want a quick bite to eat, it is a great place to stop in and pick up some food on the go.
The menu at Honeygrow is particularly encompassing. They are known for their stir fry, salad, smoothies, and their special desserts and treats, which are also healthy. While Honeygrow does offer suggested salads and stir fries, customers are encouraged to create their own and are provided with a wide-ranging selection. And despite their limited smoothie choices, they have a honeybar with numerous toppings, syrups, and fruit you can use to design your own dessert.
Not only are their options very diverse, but also they are low-priced! All of their salads are sold at just under $10, their stir fries at just above $10, and their honeybar desserts and smoothies at around $5.
And lastly, all of their food is mouth-wateringly palatable and fresh-tasting. They offer only high quality meals and claim to not own freezers in any of their stores which serves to confirm that their food is fresh and unprocessed. While most natural food you will find you may think is unappealing, Honeygrow is charming and original in that the most prominent characteristics of their food is its ability to remain both tasty and nutritious.
So if you are looking to receive a personalized, inexpensive, wholesome, and delicious meal all in one, Honeygrow is the right place for you!