Ram of the Week: Robert Choh Fleming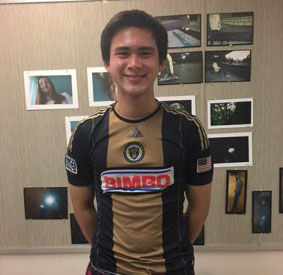 Hang on for a minute...we're trying to find some more stories you might like.
Robert Choh Fleming is an active member of the Harriton community, participating in Student Council, Physics Olympics, Debate, Science Olympiad, and more. Today we sat down with him to learn more about what he does here at Harriton and why he enjoys it.
 HB: What's clubs are you involved with at Harriton?
RF: I'm involved with the debate club, more specifically Lincoln Douglas debate. I'm involved with Science Olympiad and Physics Olympics. I'm also involved with the soccer team at Harriton. Additionally I am part of the internal planning committee in student council. Lastly, I am a writing tutor for the new writing center this year.
HB: How did you become involved in Science Olympiad?
RF: When I first came to Harriton I was told to join as many clubs as possible, so with an interest in science, I figured it would be fun. However, freshman year I did not realize I would be at soccer practice until 5, and since I swung to JV, I had a lot of games too. So I missed the first meetings and did not start going until a couple of months in and did not know what I was supposed to do in the beginning, but it was very welcoming. It became easy to participate.
HB: Is it difficult to balance your other activities while also playing on Harriton's soccer team?
RF: It can be difficult to balance my activities especially this year with a rigorous course load, but it forces me to prioritize certain activities and learn to manage my time with outside activities, such as club soccer, as well. For example, sophomore year, I joined even more clubs and I could not go to many meetings, as I was stretched thin, so I learned that there is a limit in how much I can balance, making me drop certain things.
 HB: What is your favorite subject in school and why?
RF: Right now, I'd say my favorite subject at school is science because I've always found that science is what drives progress, making it the most important class to me, as well as the most interesting, since it explains how the world around us works.
HB: What is one thing you are really looking forward to this year?
RF: Well, since I switched into the school district freshman year I didn't know many people. So, I feel as if every year I make new friends and I look forward to continue to do so this year.
HB: Is there anything else you would like to say to the readers of The Harriton Banner?
RF: Looking forward to what this school year will bring!