Recipe of the Week: Chicken Burrito Bowls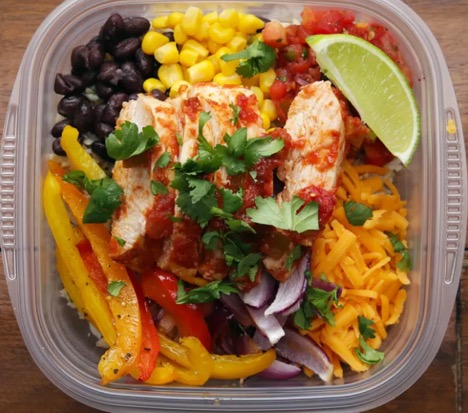 Hang on for a minute...we're trying to find some more stories you might like.
One of my absolute favorite types of food is Mexican. I love all of the food at Chipotle, El Limon and Qdoba because they're cheap and tasty. I also love testing Buzzfeed and Tasty recipes.
When scrolling through Instagram one night, I found a Chicken Burrito Bowl recipe from Buzzfeed. I immediately gathered all of the ingredients and starting preparing my dinner.
Personally, I am nowhere near the best chef in town, however this recipe is a single pan dinner that is so easy to make, and it's delicious.
As a lover of food myself, I love eating out. However there is something about having a home cooked meal that beats all the best restaurants. This recipe is perfect for those nights that you do not have hours to spend preparing a culinary masterpiece but still want to make something for yourself.
Buzzfeed intended for this to be perfect for meal prepping so feel free to change the proportions for your own needs. I can safely say that while I cannot even decently bake brownies, this recipe is so easy to make and it is so delicious. It is my new favorite recipe! The recipe from Buzzfeed is as follows:
INGREDIENTS
2–3 boneless skinless chicken breasts
3 bell peppers, any color, sliced
1 large red onion, sliced
2 tablespoons olive oil
1 tablespoon taco seasoning
Salt and pepper
1 jar salsa
3 cups cooked brown rice, divided
1 can black beans, drained and rinsed
1 can corn
1 cup shredded cheddar cheese
1 lime, sliced into wedges
Fresh cilantro to garnish
PREPARATION
Preheat oven to 400˚F/200˚C.
Line a baking sheet with foil.
Place the chicken, peppers, and onions on the baking sheet and drizzle with oil.
Sprinkle the taco seasoning evenly over both sides of the chicken breasts.
Salt and pepper the peppers and onions, tossing to coat.
Top each chicken breast with a generous pour of salsa.
Bake in a preheated oven for 25 minutes.
Rest chicken for 10 minutes, before slicing into strips.
Add a base of brown rice to 4 food storage containers. Top each with a scoop of black beans, corn, additional salsa, cheddar cheese, cooked peppers and onions, and sliced chicken. Garnish with fresh cilantro and a lime wedge.