Time's Up!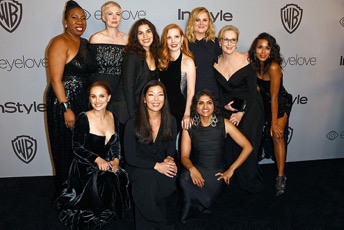 Hang on for a minute...we're trying to find some more stories you might like.
The Golden Globes have always been an exciting Hollywood party, full of celebration over talent and media.
And while movies like  LadyBird, Three Billboards Outside Ebbing, Missouri and performances by Saoirse Ronan and James Franco were announced and praised, the most pressing attention of the night was on a movement that carried beyond the Beverly Hilton venue on the night of the 75th Golden Globes.
The 2018 Golden Globes served as platform to spread the Time's Up movement, in response to the overwhelming number of men and women who have shared their experiences of sexual mistreatment over the past few months. Attendees proudly displayed their Time's Up pin on black gowns and suits while  sharing tweets to explain #WhyWeWearBlack.
A sequel to the #MeToo movement after exposure of Harvey Weinstein's decades of sexual harassment and abuse, "Time's Up" recognizes the responsibility of all people – regardless of gender, profession, race, or sexuality, to speak up and bring change to the cycle of sexual assault.
"The clock has run out on sexual assault, harassment and inequality in the workplace," reads the movement's official website. "It's time to do something about it."
On the night of the Golden Globes, actors and actresses made it clear that time was definitely up. Several guests invited activists as their plus-ones to the event; Amy Poehler was accompanied by Saru Jayaraman, founder of Berkley's Food Labor Research Center that found that in restaurants, female servers that earn low wages often are subjects of harassments from employers and customers.  
Emma Watson was accompanied by Marai Larasi, executive director of Imkaan, a black feminist organization and chair of End Violence Against Women Coalition. Several other founding members of the Times Up movement were joined by prominent activists to bring awareness to the discrepancy between gender rights and sexual harassment.
The Time's Up movement elevated the Golden Globes to more than just an award show – it was transformed into a platform to continue a conversation and revolution against sexual harassment, assault, and mistreatment in the workplace. The wave of black gowns that flooded the red carpet was a coordinated protest in effort to emphasize the work that is still left to end harassment in Hollywood and beyond.
"This is a moment of solidarity, not a fashion movement," explained Eva Longoria.
Through their blackout, actors and actresses showed that the time is up for the media industry to "expect us to go up and twirl around. That's not what this movement is about."
To support the Time's Up movement at Harriton, wear black to join Harriton's own blackout on Thursday, January 18th.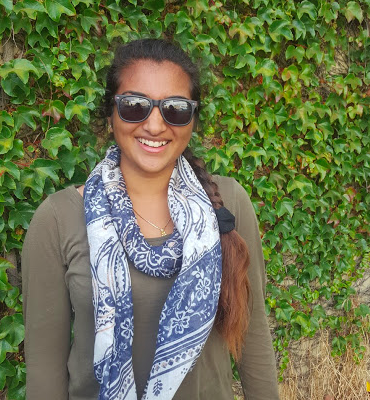 Sinduri Soundararajan, Magazine Editor
As a junior this year, Sinduri Soundararajan is entering her third year as a writer for the Banner and is excited to work to inform, entertain, and educate...