Ram of the Week: Eli Segal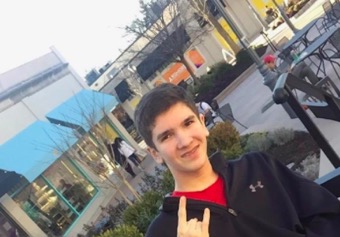 This week, The Banner met with Eli Segal, a junior who is very involved in Harriton activities, such as playing squash and working behind the camera of HHS TV. Read on to learn more about Eli, his thoughts, and his opinions on his interests and being an upperclassman.
HB: How much time do you spend playing squash per week?
ES: That's a very big number. Let's see. Give me a sec. Thirteen and a half hours.
HB: What is your favorite thing about squash or Harriton sports in general?
ES: That's a really tough question. I guess squash is fun in a weird way. There's no way to describe it. Sports are just fun. I like it for the workout.
HB: What is your role in HHS TV?
ES: I'm the sound director. I work the sound board, the microphones, anything basically to do with audio.
HB: What is it like behind the scene?
ES: It is surprisingly hectic. There's a lot of shouting involved. There's a lot of pointing fingers, lots of mini fights.
HB: What teachers are involved?
ES: There are two teachers. Mr. Tudor is our club sponsor. Anything we put on the Ram Report has to go through him. And our club advisor, who is the guy who makes sure we do everything right, is Mr. Lehman. Mr. Tudor is there to approve things, and Mr. Lehman is there to make sure we don't break anything.
HB: How effective are extracurriculars at making friends and meeting other grades?
ES: Extracurriculars are great. You meet loads of weird people that you find surprisingly enjoyable.
HB: So what is it like being an upperclassman now?
ES: It's weird. It's terrifying.
HB: Terrifying?
ES: I have less than a year until I'm an adult. I can drive. I'm preparing for college. It's too weird.
HB: What is your attitude towards lowerclassmen?
ES: There are certain lowerclassmen I like. I don't think freshmen know what walking and talking is. So when I'm walking in the hallway with my friends, they just stop and huddle. And they don't know how to keep walking. I don't think they know what walking is.
HB: What about seniors?
ES: They're weird. They're an odd bunch. There are more of them that I like than freshmen.
HB: Now, I'm going to ask you about your favorites. Show?
ES: I don't even watch tv. If I had— Game of Thrones. That's the one show I watch.
HB: Book?
ES: Adventurers Wanted.
HB: Food?
ES: Let's go with grilled cheese.
HB: Color?
ES: Blue.
HB: Class?
ES: Gym class.
HB: Subject to learn about?
ES: History.
HB: Lastly, do you have a quote or something that you live by?
ES: I'm trying to think of something really cheesy and stupid. (Pause.) When life gives you lemons, make kool aid.