Spongebob Squarepants: The Musical Review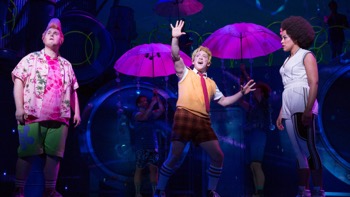 Hang on for a minute...we're trying to find some more stories you might like.
Who lives in a pineapple under the sea? Spongebob Squarepants does! Through the creative eyes of renowned artists Tina Landau, Kyle Jarrow, Tom Kitt, and Christopher Gattelli, this classic children's cartoon is now reimagined as a flashy Broadway musical – currently playing at the Palace Theater in New York City!
Spongebob Squarepants first premiered on Nickelodeon in 1999, and quickly gained popularity. It is now one of the longest running cartoons on television, and has made a lasting impression on the children and teens of today. The show follows the life of a yellow sea sponge and his adventures in the undersea city of Bikini Bottom, and with a vast array of sea creature characters, each episode is nothing short of entertaining.
The musical doesn't stray far from the initial story of Spongebob and friends, but delivers a brand new plot that suits a two and a half hour performance. When the mysterious Mount Humongous is threatening to erupt and destroy Bikini Bottom, Spongebob, Patrick, and Sandy must find a way to save their beloved town and all of its inhabitants. Fighting their way through frantic sardines, evil masterminds, and a lack of self-confidence, the trio faces a daunting challenge in their quest to become heroes.
Ethan Slater portrayed the not-so-simple leading sponge. While his vocals and character left nothing to be desired, the most notable aspect of his performance was his impeccable acrobatic skill. His small but muscular build allowed him to leap across the set with ease and even climb to the top of "Mount Humongous," a large, impressive piece made completely of ladders. Squeezing in between the tiny crevices of each ladder, Slater demonstrated tremendous gymnastic skill and proved he was born for his role.
Among the supporting cast, Danny Skinner shined as Spongebob's lovable "BFF" Patrick Star. His physicality and incredible comedic timing adding a nice touch of humor to the show. It would have been nicer if Skinner had more stage time (and maybe even his own song in the mix). Without much to work with, Skinner certainly made the most of the time he did have in front of the audience, cracking jokes and generating uproarious laughter.
Broadway veterans Lilli Cooper, Wesley Taylor, and Gavin Lee once again returned to the stage as Sandy Cheeks, Sheldon Plankton, and Squidward Tentacles, respectively. While Cooper and Taylor gave lovely performances, the real highlight of the evening was Lee's interpretation of the infamously grouchy blue squid. Sporting an extra pair of legs, Lee managed to completely embody Spongebob's pessimistic neighbor, performing the show stopping tap number, "I'm Not a Loser."
The innovative set, completely made of beach paraphernalia, was in a class of its own. "Coral" pool noodles and blow-up beach balls painted to look like undersea plants lined the stage as black lights highlighted the neon colors. As soon as the audience walked into the theater, they were taken under the sea and into the magical land of Bikini Bottom. With streamers lining every wall in the theater, the attractive set sparked imagination and made everyone relive their childhood dreams.
Also notable was the involvement of the orchestra. Most of them were spread out across the stage, dressed head to toe in cheesy hawaiian shirts and luaus. Various times throughout the show, the actors and the conductor would physically interact, using a variety of props and gestures. It seemed as if the conductor had a role of her own in the performance.
These delightful aspects all made Spongebob Squarepants: The Musical incredibly unique and surprisingly enjoyable. Although the plot lacked some cohesion and at times a few songs seemed out of place, this musical was highly entertaining and a joy to experience.
If nautical nonsense be something you wish, then be sure to see this sparkling family musical that has something in it for everyone! (Even you, Old Man Jenkins!)