Meet Mr. Harriton Contestants: Ethan Rodgers and Nate Nagvajara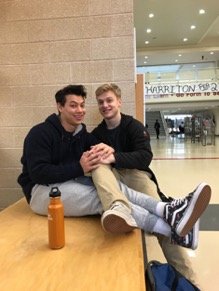 Hang on for a minute...we're trying to find some more stories you might like.
Here is the third of our exclusive Mr. Harriton interviews, with seniors, Ethan Rodgers (Hansel and Gretel) and Nate Nagvajara (The Ugly Duckling). But will their passion and jokes be enough for one of them to steal the crown?
 Why did you decide to try out for Mr. Harriton?
Ethan: For new experiences and to perform in front of a lot of people
Nate: I perform outside of school, which is cool, and you get to raise money for a cause, which is good.
Both: We have a good connection in our grade. We have grown up with these people, and it is fun to do new things with friends.
Nate: The fact that you get to raise money. This is great, particularly. I've grown up with the seniors, and it's fun to do something outside the box with your friends
Who's your biggest competition?
Nate: Chang
Ethan: Chang
Both: Everyone is good and pretty even. Everyone's video is pretty cool. A lot of really cool talents. A lot of talents that haven't been seen before. A lot of actual talent, musical talent.
Nate: Everyone has a legitimate talent. I wouldn't be surprised if Max slithered his way into a W.
Describe yourself in one word.
Nate: Energetic. Eccentric.
Ethan: Tender.
Nate: He's a kindred soul. He knows me like a short story.
What makes you the next Mr. Harriton?
Ethan: If you would make us one human, we would win.
Nate: I've eaten lamb before, so…
Ethan: I don't really care about winning, I just wanted to do it.
Both: Raising the most money is the coolest. But what sets us apart is personality.
Nate: Ethan's the sweetheart of the group and will charm his way into the hearts of millions.
Ethan: Nate's the funny one, always cracking jokes.
Nate: I'm putting a little spin on stand up. Hopefully I'll at least entertain. I want people leaving and going, "Wow. Why do I live?" And it's to watch Nate do standup.
What's your catchphrase?
Nate: Lower expectations so they're easy to surpass.
Ethan: Sup sup talking hot and cold.