Meet Mr. Harriton Contestants: Nicky Kotler and Jack Torbeck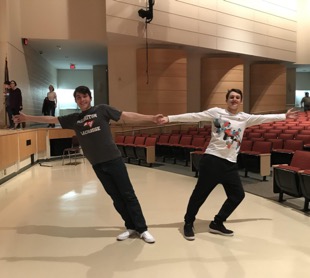 Hang on for a minute...we're trying to find some more stories you might like.
The Harriton Banner brings you our fourth and final interview of the Mr. Harriton contestants with seniors, Nicky Kotler (Puss and Boots) and Jack Torbeck (Jack and the Beanstalk). Will their drive, dancing and "spice" be enough to win over the judges?
Why did you decide to try out for Mr. Harriton?
Nicky: I saw how much fun my brother had doing it and I wanted to do it too.
Jack: Because I didn't have anything to do in the winter and thought it would be fun to perform onstage.
What makes you the next Mr. Harriton?
Nicky: My enthusiasm puts me over the top
Jack: My chemistry with Nate, a fellow contestant, brings out the best in me.
Who's your biggest competition?
Nicky: Ethan
Jack: Nicholas Kotler. He has really improved since Day 1. I thought he would come in last and now he's a contender. He came out of the blue.
Describe yourself in one word
Nicky: A disappointment.
Jack: Human.
Do you think you're a good dancer?
Nicky: Maybe?
Jack: I think that Nicky is a bad dancer, but that somehow makes it good with his awkwardness. For me, I know the moves, and I'm on beat, but I gotta add some spice. Nicky has spice and I don't. That's the difference. I just have to add in the spice.