Ram of the Week: Octavio Kim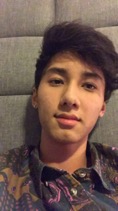 Hang on for a minute...we're trying to find some more stories you might like.
Octavio Kim is a friendly junior at Harriton who spends most of his time discussing either clothing or Cryptocurrency. Octavio participates in DECA, Speech, and is the founder of Harriton's Fashion Club. Currently, Octavio is working on his clothing line Taviii, which will debut in the near future. Read on to learn about the life of the next Ralph Lauren and Calvin Klein himself, Octavio Kim.
 HB: How has DECA pushed you in school?
OK: DECA has pushed me to become a better businessman and entrepreneur. It has also helped me become more organized and helped me act as a leader.
 HB: According to the DECA website, DECA is a life-changing experience. Do you agree?
OK: I wouldn't say that DECA is a life-changing experience, but I would say it has helped me improve as a student and change my character.
 HB: Is fashion design something you want to pursue in life? After all, you are the creator of the Fashion Club.
OK: Fashion is something I am passionate about and interested in pursuing as a career, but there are a lot of steps I need to take before then, including: I need to improve my skills and define my own style.
 HB: When will the first line of Taviii be available?
OK: The first collection will be available at any moment now. There were a lot of road blocks I did not expect to encounter but you can expect to be able to buy your clothes this spring.
 HB: Would you recommend someone who has trouble with public speaking to do Speech?
OK: Yes, I would definitely recommend Speech to anyone that has public speaking issues. Personally it has helped me tremendously and has helped me improve my skills in giving presentations, conducting interviews, and in everyday conversation.
 HB: How do you think you and Duncan will do at Speech and Debate States this year? How is the competition?
OK: I honestly do not think we will qualify past the first round because of the nature of our piece. It is comedic and those do not normally do well at the state level. It is titled Breast Men by Bill Bazzone and Joe de Pietro.
HB: Growing up in a household where both of your parents are college professors, do you feel pressure to pursue teaching as a career?
OK: I do not feel any pressure at all to be a college professor. I am interested in teaching, but there is more pressure to do well academically and even some pressure to attend the colleges they work at.
HB: For those who do not understand, could you give a short explanation as to how cryptocurrency works?
OK: Cryptocurrency is a form of decentralized and unregulated currency that is not tied to a government, meaning value is not contingent to its success or economic power. Its value is determined by consumers meaning, the more people that buy it, the higher its value and the more people that sell it, the lower its value.
HB: What is your dream in life?
OK: My dream is to own a tea shop in Korea with a koi pond and make my own clothes and live with my wife and two kids.
HB: What is your favorite cookbook?
OK: My favorite cookbook would have to be "New Cookbook" by Better Homes and Gardens. It has classics and teaches you how to make really good chocolate chip cookies. It is really good, I really recommend it.