NBC's Jesus Christ Superstar Live Review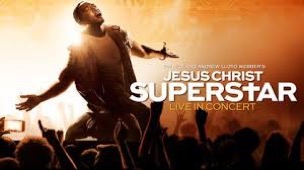 Hang on for a minute...we're trying to find some more stories you might like.
With all the vibrancy, groove, and glamour of a retro-rock concert, NBC brought Andrew Lloyd Weber and Tim Rice's famous rock opera "Jesus Christ Superstar" to life on Sunday, April 1st.
A fascinating interpretation of the last seven days in Jesus Christ's life, this musical is infamously controversial in its themes. Told through the eyes of the betraying apostle Judas, this story of Christ's journey from spirited leader to betrayed martyr proved to resonate with the millions of viewers worldwide.
While it may be a biblical tale, NBC brought much more to the performance than just religious meaning, allowing people of all beliefs, races, shapes, and sizes to relate to the struggles of the characters.
The star-studded cast featured Grammy-winner and platinum selling pop artist John Legend as the title role of Jesus, Hamilton alum Brandon Victor Dixon as Judas, songwriter and Broadway performer Sara Bareilles as Mary Magdalene, and actor Ben Daniels as Pontius Pilate.
Although Legend's soulful vocals soared through the demanding score, his acting left something to be desired. Despite this, he gloriously outshone the previous celebrities NBC has acquired to play leading roles in their annual live musicals, such as Carrie Underwood in The Sound of Music and Allison Williams in Peter Pan, to name a few.
What Legend lacked as a triple-threat was surely made up in the performances of the Broadway veterans surrounding him. Bareilles' incredible take on Mary Magdalene gave a certain depth to her character that seemed to be absent before. Daniels thrived as the conflicted Pilate and showcased true emotion during his stage time.
The real highlight of the evening was Dixon as Judas, who absolutely stole the show with his rock tenor, realistic acting, and groovy dance moves throughout show-stopping numbers such as "Damned for All Time/Blood Money" and "Superstar."
Also notable was the villainous duo of Norm Lewis (Caiaphas) and Jin Ha (Annas). Lewis' rich bass resonated through the crowd and greatly complimented Ha's impressive countertenor.
Technically, the performance was flawless. From apocalyptic costumes to colorful strobe lights, the professionalism of the show was to be expected from a high-budget production. The ending, however, which featured Legend on the cross slowly receding into a pale white light, was unexpected, innovative, and absolutely marvelous. Props to the stage management for handling the slow transition so smoothly.
After years of trying to create live theater on television and often failing to please its audiences, NBC finally struck the right chord with its rendition of Jesus Christ Superstar. You can watch the replay of the concert, here.