The Neiman Marcus $250 Cookie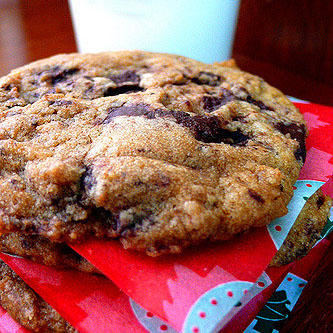 Maria Persaud
March 12, 2019
Hang on for a minute...we're trying to find some more stories you might like.
Spoiler: These cookies aren't actually worth $250. They gained their eye-catching title through an interesting backstory that, although fake, inspired me to make them.
The same story has circulated through recent history many times under the guise of many recipes, and it first made its rounds in 1948 with regards to an extravagant red velvet fudge cake served at the Waldorf Astoria Hotel.
An almost identical anecdote arose in the 1980s about Mrs. Field's original cookies, and then the "Neiman Marcus $250 Cookie" made its way into the world via an email chain bragging a $250 cookie recipe from the Neiman Marcus Cafe in Dallas.
Apparently, a woman and her daughter got a cookie after their lunch and liked it so much, they purchased the recipe for what the waiter said was "two-fifty." However, a misunderstanding occurred when the woman thought that the waitress meant $2.50, when she really meant $250.
After realizing this and being unable to get a refund, the woman sent the recipe to everyone she knew so that nobody would ever have to pay $250 for the recipe ever again. The myth has since been debunked, but the recipe remains, raising the question:
Could this cookie ever be worth $250?
I embarked on my journey for truth optimistic and excited, but my joy soon turned into confusion and disappointment as I encountered flaws in the recipe.
The biggest of these errors was the ratio of dough to add-ins when I was forming the cookies, because once I had put in the directed amount of pecans and chocolate, there were almost more add-ins than actual dough.
This lead to the cookies being unable to hold their shape and falling apart, leaving me covered in chocolate, pecans, and disappointment. My little sister described the dough as "quinoa with chocolate and pecans," which is never a good sign.
They also never spread out when they baked, and dried out easily. This isn't much of a surprise, considering that it's a recipe from a fake email chain, but that doesn't mean that the recipe is without potential.
After getting reviews from other students at Harriton, I made adjustments to the recipe that should lead to softer, even more delicious cookies.
Almost everybody said that they had good flavors, but that they were hard to eat because they baked into tiny, chocolate flavored bowling balls that had a "gronchy" texture, as one student put it.
This can be fixed by reducing the amount of pecans and using smaller chocolate chips, and using a bit of milk or applesauce in the dough to make it softer and to prevent cookies from falling apart.
When I made the cookies, I only used half of the recommended amount of granulated sugar and used dark chocolate instead of milk chocolate, which ensured that the cookie's weren't too sweet.
The dough also could have used some time in the fridge, which wasn't originally in the recipe, and my suggestion would be to add half of the add-ins to the dough, chill it, and then add the other half.
Overall, it's a recipe that I'll definitely try again, and with some adjustments, could very well live up to its name.
Ingredients
1 cup of unsalted butter, room temperature

1 cup of dark brown sugar, lightly packed

½ cup of granulated sugar

2 large eggs

3 teaspoons of vanilla extract

2 ½ cups of old-fashioned oats

2 cups of all purpose flour (I suggest more to help the dough bind)

1 teaspoon of baking soda

1 teaspoon of baking powder

¾ teaspoon of salt

1 cup of semisweet chocolate chips

4 ounces of dark chocolate, grated

¾ cups of chopped pecans or walnuts
*I suggest adding a bit of milk or applesauce to help the texture.
Preparation
Preheat the oven to 375º, and place a rack in the top third of the oven.

Beat the soft butter and sugars in a large mixing bowl with an electric mixer on medium speed until creamy (1-2 minutes). Scrape down the sides of the bowl and add the eggs and the vanilla, beating on low speed until combined and smooth (1 minute).

In a food processor with a steel blade, pulse the oats until finely ground(10-15 seconds). Whisk together the oats, flour, baking soda, baking powder, and salt in a medium sized bowl, and dump the oatmeal flour mixture into the bowl with the batter. Combine my beating on low speed (30 seconds).

Mix in half of the chocolate chips, grated chocolate, and nuts, and then put the dough in the freezer to chill (30 minutes). Add in the second half of the add-ins once after.

Make 1-inch balls with the batter on a baking sheet, spread 2 inches apart. Place in the oven and bake for 8-10 minutes.
You can find the original recipe in The American Cookie by Anne Byrn.