Touching the Sky in Philadelphia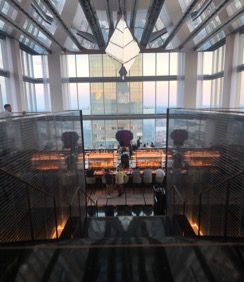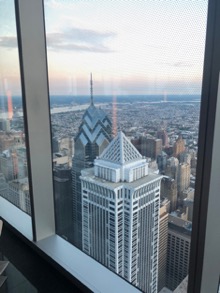 I wanted to "go big" for my first article at The Harriton Banner, so I decided to explore the newest skyscraper in Philadelphia: The Comcast Technology Center.
Taking five years and $1.5 billion to finish, the Comcast Technology Center opened in late July 2018 to 4,000 employees and contractors, who enter the tower through 18th and Arch Street to work in the building's lower 48 floors—there are 60 in total.
The Comcast Technology Center earns the title of the tallest building in Philadelphia, standing 1,121 feet(342 m).
Multiple restaurants are on the ground floor— including Philadelphia's famous "Vernick Food and Drink"—, but the tower's prime spot is Jean-Georges Restaurant on the top floor, where 40-foot windows surround the restaurant, displaying a 360-degree view of the city.
At a ULI panel in December, Liberty Property Trust's William Hankowsky joked that the drinks will "cost a pretty penny." Just below the restaurant on the top floor is the newest (and now tallest) luxury hotel in the country, the Four Seasons Philadelphia.
With rates that top over $600 a night, the 219-room hotel will have a touch of celebrity with chefs Greg Vernick and Jean-Georges Vongerichten.
The First Comcast Center (right next door) was the greenest and tallest building in Philly, but now the Comcast Technology Center is aiming for LEED Platinum certification and is expected to be 50 percent more energy efficient than its sister tower.
The new building is wrapped in glass that has a microscopic layer of silver for extra thermal protection. Plus, the panes of glass are filled with a special gas that conducts a low amount of heat.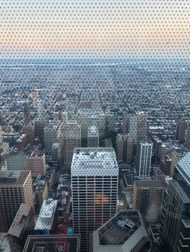 I entered one of the building's three glass-enclosed elevators and pressed the button for the 60th floor. Gliding up the elevator was like zooming through the sky in a rocket ship—I felt like I was riding Disney's Space Mountain! The elevator travelled roughly 1,000 feet to the top floor in less than a minute(52 seconds to be exact).
The view from the elevator was priceless; I watched the sun set over Philadelphia and could only dream of what the view would look like during a thunderstorm or during nighttime with the city lights. I spotted other buildings like Liberty place and the first Comcast tower.
I even snapped a few photos from the roof, but unfortunately my camera could only capture a small piece of the enormous landscape. The building's towering size could be seen from a hundred miles away! From a distance, city goers can watch the glass elevator travel up and down through the tower.
Once I reached the top floor, I looked down upon the city and felt taller than the surrounding skyscrapers. It felt good to be on top of the world.