Top Ten Halloween Activities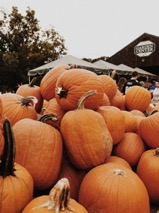 Hang on for a minute...we're trying to find some more stories you might like.
As we approach the Halloween season, we thought we would get creative and offer you a few, ten in fact, things to do this fall. Some you do with friends, some with family, and some, well, you can do with anyone, even by yourself. Let's take a look.
Go to Linvilla Orchards: There are so many activities that you can do at Linvilla Orchards in the fall. You can pick out the perfect pumpkin at Linvilla's "pumpkinland" or pick from a variety of apples at Linvilla's vast apple orchards. I would also definitely recommend visiting Linvilla's Farm Market and picking up a jug of apple cider – it really is amazing
Bates Motel and Haunted Hayride: Do you like to be spooked on Halloween? If yes, Bates Motel is perfect for you. Walk through the haunted motel and come face to face with ghouls and ghosts, or ride on the hay ride and get an up close and personal with evil clowns and zombies. Either one will get your adrenaline pumping and will for sure get you in the spirit of Halloween
Go on a Philadelphia Ghost Tour: Haunted houses not your thing, but still want to be scared? Try taking a ghost tour of Philly, where tour guides will tell you about the haunted history behind Independence National Park, Old City, and Society Hill.
Host a pumpkin decorating party: gather a group of friends, buy some pumpkins, and get carving! If carving scares you, you could also paint the pumpkins. See who can make the most creative and spookiest design.The best part about carving pumpkins is that you will have an abundance of seeds that you can roast after. Yum!
Watch a scary movie: this activity is a little more low key, but still super fun and will definitely get you in the Halloween spirit. Really any scary/Halloween related movie applies here, but I obviously have suggestions. If you are looking for scary, you can't go wrong with the classic 1978 movie "Halloween" with Michael Myers, and the 2018 version isn't bad either. If you are scared of scary movies but still want to feel halloween-y, I would suggest any of the "HalloweenTown" movies or "Twitches."
Decorate your house: Go to party city, or really any store around Halloween time, buy some fake spider webs, styrofoam tombstones, or any other halloween decorations you can find, and just go crazy! This one is pretty simple, but still super fun.
Drink a Pumpkin Spice Latte: Any apple, cinnamon, or pumpkin themed drink will do to be honest. These are KEY fall flavors and are sure to get you in the mood for fall. PSL's are personally my favorite, being mainly sugar with a hint of coffee. Do not feel basic for ordering a fall drink…it's time to break the stigma people! They're delicious!
Bake Halloween cookies: don't act like you don't know exactly what I'm talking about –  the pillsbury cookies with the pumpkins on them. Nobody knows why these are superior to every other cookie, but they just are. No explanation needed.
Buy your favorite candies… In bulk: Halloween is really the only time it is acceptable to eat copious amounts of candy and not feel like you're killing your insides slowly. So go to the nearest supermarket and buy those Reeses, Hershey Kisses, or whatever floats your boat. Just remember to brush your teeth after, cavities are a real thing!
Buy Halloween candles: Ah, nothing beats the smell of a fresh apple cider. Make your home smell like fall by adding a fall candle. They don't just smell good either, they make you feel cozy, which is a feeling associated with fall. Imagine this: bundling up in a furry blanket, lighting a fall candle, and watching a movie. Sounds pretty good, right?
Do one, or do all of these activities. Call a friend and get started. There is fun to be had, even if we are too old to trick-or-treat.