Does Lower Merion Want More Sleep?
A Look Into the Board Meeting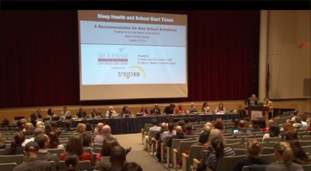 The Lower Merion School District Board of School Directors met with residents of the Lower Merion community last Thursday at Lower Merion High School to consider the new school start-time proposal.
In the meeting, Dr. Kristina Ayers Paul, LMSD's Special Assistant for Research and Program Evaluation, and Dr. Kathy Blackburn of TregoED, presented the five new schedules of the plan and evaluated its risks.
The current LMSD schedule sets high school from 7:30 a.m. to 2:40 p.m., middle school from 8:15 a.m. to 3:05 p.m., and elementary school from 9:00 a.m. to 3:35 p.m.
In contrast, the proposed schedule sets elementary school from 7:45 a.m. to 2:35 p.m., high school from 8:35 a.m. to 3:25 p.m., and middle school from 9:05 a.m. to 4:05 p.m.
The school district must adhere to Pennsylvania's school education laws. The minimum number of hours of instruction and IEP requirements must be met, along with providing transportation, for not only the public school students, but also the 130+ private school locations. This is crucial, as there is a nationwide bus driver shortage, and LMSD is already ten drivers short.
At the meeting, community members voiced their concerns about the schedule proposal. Some parents worried about their elementary-aged children waiting for their buses in the dark and not having a guardian when the children arrived home. Others stressed the financial burden of added childcare expenses.
Meanwhile, secondary school students were concerned about after school activities running too late into the evening, especially sports. In addition, athletes would miss more instructional time once they leave for away games, given that many other districts in the league would still have earlier dismissal times. Teams that use specialized arenas, like the crew, golf, and squash teams, rely on the allotted time and transportation, so the schedule change creates a challenge.
The school district seems to be leaning towards some type of schedule change based on the AAP's recommendation for 8:30 a.m. or later start times for secondary school students. The AAP identifies insufficient sleep as a public health issue with mental, physical, and academic repercussions.
The Board plans to vote on this issue in the Spring of 2020.
—-
More information can be found on the Lower Merion School District website and in their new infographic.
Video of the Meeting: http://www.lmsd.org/board/view-meetings
Dedicated email: [email protected]
School schedule survey: www.lmsd.org/surveys