Jojo Rabbit Review
Taika Waititi Delivers Another Indie Masterpiece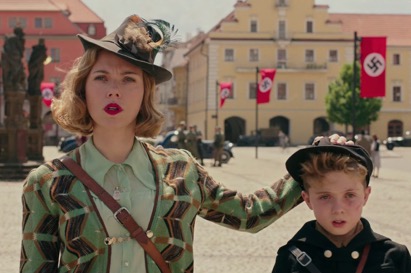 Nick Biglin, Assistant Communications Director
November 19, 2019
Before he was known as the quirky director that turned the previously bland "Thor" franchise into a hilarious romp (Thor: Ragnarok), Taika Waititi was an indie filmmaker (and somewhat of a rockstar) in his homeland of New Zealand, directing and writing the two highest grossing films in that country.
Now, after gaining international popularity for his involvement in the Marvel Cinematic Universe, Waititi returns to his indie roots with his newest film, Jojo Rabbit.
Jojo takes place in Germany during World War II when the Nazis were being pushed back and close to being defeated. Jojo is a 10-year-old boy (Roman Griffin Davis) and Hitler fanatic, going as far as to have Hitler himself (played by Waititi) as his imaginary friend.
Things change for Jojo's Nazi-obssesed life when he finds a Jewish girl hiding in his house, Elsa (Thomasin McKenzie), who is being harbored by his mother (Scarlett Johansson).
Waititi's signature style is present throughout the entire film: a combination of quirkiness and comedy with heartfelt elements, reminiscent of indie directors like Wes Anderson. Jojo Rabbit is quite beautiful to look at, truly bringing to life this quaint, German town with bright and lustrous cinematography. The script wonderfully blends both classic and modern elements to make a film that, while set in a time period, can be appreciated in today's society.
In Davis' debut performance, he pairs incredibly well with McKenzie, proving that age doesn't limit incredible performances. Johansson's character, Rosie, is a surprise standout for what could have been another throw-away role.
With Rosie, Waititi shows that he doesn't write throwaway roles; in this film, every character matters. Even Sam Rockwell's character, Captain Klenzendorf, who starts off as a comic relief, turns into one of the film's most important characters.
One might be concerned that Waititi's humorous inclinations might trivialize this serious matter. The beginning of the film may lean heavily into its comedy, but as it progresses, Waititi incorporates his signature emotional core and shows how abombinable the horrors of the Nazi regime are.
Hitler, while initially being portrayed as a more childlike caricature of himself, is later revealed not to be Jojo's savior, but rather his devil.
Jojo Rabbit is a film that benefits from its multiple storylines: on a first look, it is a story about the brainwashed Hitler youth and the reign of the Nazis, but on a deeper level, it's a story of love and acceptance.
Especially in today, lessons of acceptance are more necessary than ever. The Nazis, among other hate groups, are still around. Waititi reminds us that these hate groups advocate for a deranged group of supremacists who convinced a country to destroy their country and millions of its people.
Jojo Rabbit is a film that will make you both laugh and cry in its 90 minute runtime. Waititi masterfully creates a satirical comedy that lives inside of a larger and more important coming-of-age story. These comical, sentimental, and historical layers make Taiki Waititi's Jojo Rabbit one of the best films of 2019.