One Article, Two Friends, and Five Cups of Hot Chocolate
Our Quest for the Best Hot Chocolate on the Main Line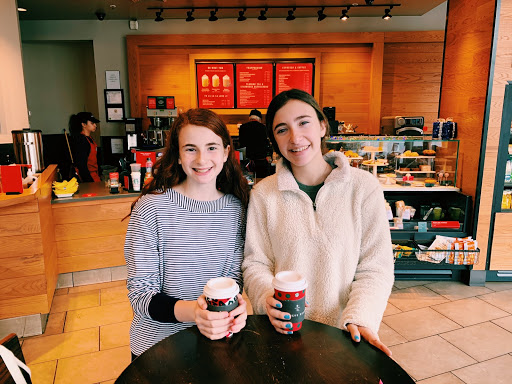 When the weather begins to grow colder with frost settling in a thin blanket over the ground  amidst crisp and biting air, all you need is a warm mug of steaming hot chocolate. This treat may not be for everyone, but there is no denying that one cup of cocoa will thaw not only frozen hands but also hearts chilled by the cold blast of winter.
If you're looking for the top hot chocolate places in the Main Line, you've come to the right spot. We are the hot chocolate connoisseurs that will give you the inside on new cafe suggestions and different types of cocoas to try at all the usual spots. From peppermint to caramel to Belgian to thick Spanish, and yes, to your classic milk HC, some of these cafes might have even made up question our hot cocoa preferences.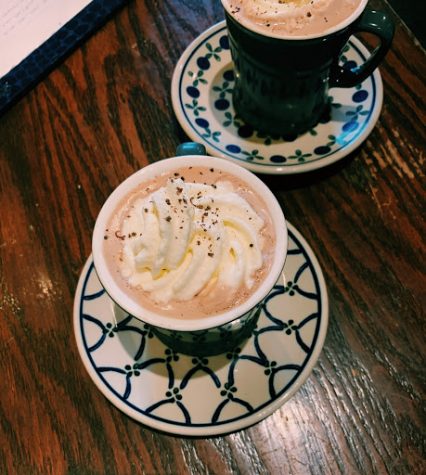 Throughout our trek to find the best places on the Main Line for the tastiest hot chocolate, we happened across some cozy nooks that double as the perfect spot to pop in earbuds, get out those history notes, and bang out hours of studying.
Studying. The task that takes up your time, that bites into precious hours of spending time with friends and family or watching hours of Netflix. However, it is inevitable that the need for hard-core studying will come, but don't be scared or procrastinate, because we have something that might ease the pain. 
We constructed a list of criteria to grade these spots on, including presentation (saucer, mug, etc.), type of chocolate, richness, overall taste, whipped cream, chocolate flavor, the atmosphere of a cafe/restaurant, bitterness, and extra touches. 
In Wayne, you can find the adorable Gryphon Cafe along with the Le Pain Quotidien. Starbucks can be found anywhere, but we've got some new seasonal treats from Starbucks to recommend. There is La Colombe in Bryn Mawr and then, Green Engine Coffee Co., Main Line's own, local coffee shop, in Haverford.
Some of these places might be new and some might be a well-loved establishment, but keep reading because the HC connoisseurs have some strong opinions on the hot chocolate at each one of these study nooks!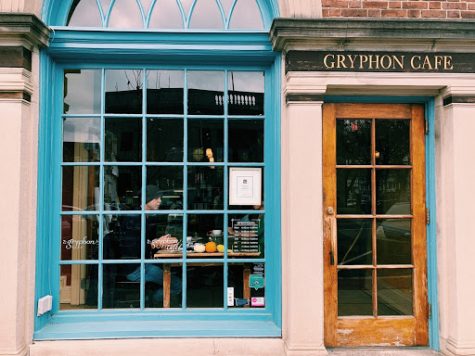 To say that the Gryphon Cafe on Lancaster Avenue in Wayne is the cutest shop we critiqued would be an understatement. From the beautiful brick facade to the large circle-topped window in front, every inch of this shop shouts out a calm and quiet vibe.
Inside is your classic, rustic cafe, with cute, little wooden tables, and walls painted a cheerful yellow. The back two windows look like something straight out of The Secret Garden, with ivy and a whimsical mural of purple buildings with glowing yellow windows.
But it's not just the look that made us love the Gryphon Cafe. Inside, you will find a hot chocolate that we rate nine out of ten! The service was super quick and the presentation beautiful and unique. Served in a pretty grey mug on a gorgeous blue china saucer, the hot chocolate was what we were there for of course, and it did not disappoint.
Hints of sweet caramel, light milk chocolate; a swirl of rich, homemade whipped cream, and an adorable extra touch of chocolate shavings made the hot chocolate not only decadent and delicious but also light and simple and almost elegant. It would be perfect for a quick afternoon snack or as a side-caboose with a pastry. 
Considering all of the types of hot chocolate, make-your-own never truly comes to mind, but for the chefs at Le Pain Quotidien, also on Lancaster Avenue in Wayne, it sure did. Ri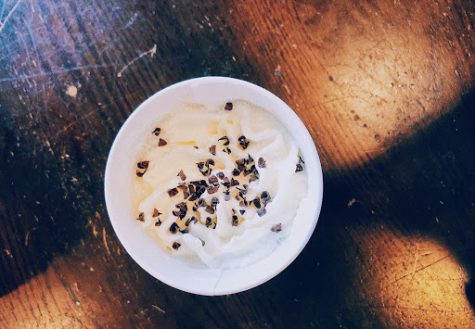 ght off the bat, we realized that something was missing… the handle to the mug, which was awkward to say the least.
However, all hope was not lost. In the mug, we received a cup of room-temperature white milk, with fluffy cloud-like foam, and a swirl of bitter chocolate on top. Taking the first sip, it felt more like drinking warm milk than anything else.
Our spirits began to lift after a pot of melted, dark chocolate arrived, but after pouring it in, we realized that both the milk and chocolate were lukewarm! What seemed an inspired idea at first, turned into a failed execution. Additionally, the service and maintenance were not up to par, with syrup-coated tables and disorganized staff.
However, this dining experience was not a bust. The decor was stunning, like a picture straight out of a magazine. Brightly colored flowers sat atop antique, wooden tables, with shabby-chic lighting. Right when you enter, a chalkboard with neatly, cursive writing greets you, detailing the listings of coffees, teas, and specials to choose from.
Starbucks is the quintessential American coffee shop that you can find at every corner, pretty much anywhere. But those special days of glowing lights and presents are growing near, and the holiday spirit has enveloped Starbucks, giving some new selection to those familiar menus. Sure, Starbucks has no pretty mugs, but their beverages are great for bringing on the go, which makes it an overall win-win, being both convenient and delicious.
However, getting the same hot cocoa  every single time can get old, which is why we suggest picking up one of those festive holiday cups, stepping out of your comfort zone, and trying the seasonal, white chocolate, peppermint hot chocolate.
Just a warning, if you do not enjoy mint as a flavor, don't try the peppermint HC because it is VERY minty. However, we found this hot chocolate to possess the perfect amount of mintiness. The unusual combination of white chocolate and peppermint makes for something that we very strongly recommend. Starbucks may be familiar, but this seasonal hot chocolate is new and delicious and definitely a must-have!
Next, we visited La Colombe, on Lancaster Avenue in Bryn Mawr, a well-known cafe, famous for their delicious coffee, but in the spirit of our adventure, we decided to test out their hot cocoa! Getting in line at this industrial-looking cafe gave us hope that the drink was going to live up to our expectations and match the gorgeous space, and at first, the presentation was impeccable.
We received an antique mug and saucer with foam floating atop a piping hot drink. However, the first sip left much to be desired. The flavor of the dark chocolate came through, but the extreme bitterness completely overpowered. It felt as though we were drinking straight-up, melted, bitter, dark chocolate, forcing us to stop after just the first sip. Thus, we declare that La Colombe should stick to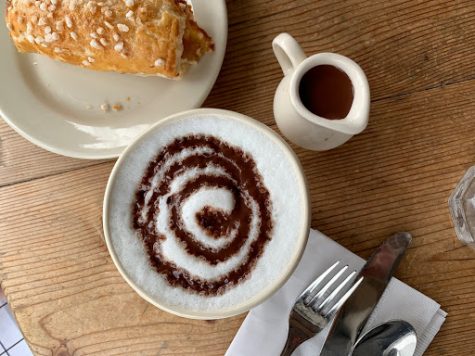 their classic coffee.
Again, this trip was not a complete bust. Similar to our experience at Le Pain Quotidien, the space was beautiful. Regarding the atmosphere, La Colombe is an ideal place to study, with lots of seating, cabinets filled to the brim with freshly-baked pastries, while overlooking a view of Bryn Mawr's very own streets.
 Ending it with a bang is our very own personal favorite, Green Engine Co., located right by the Haverford train station on Haverford Station Road in Haverford. Immediately when you walk in, you feel nothing but good vibes and smell nothing but freshly-ground coffee beans and homemade pastries.
With a succulent, plant wall and window-seats overlooking the streets of Haverford, Green Engine is the place to be, but good luck getting a seat, for, during the mid-term season, the place is packed with high school and college students, ferociously tearing through notes.
This Spanish hot chocolate does live up to their description of "thick, rich, and decadent." Starting with the presentation, their holiday-themed sketches in the hot cocoa foam is the finishing touch. The first sip is the same as the last, with consistency of thickness lasting throughout, carrying sweet notes of dark chocolate until the very last sip, luring you back for more.
The type of chocolate in this delicious cup is dark and rich, so if you are not a full-on chocolate person and just want a milder flavor, this isn't the place. But if you eat, breathe, and live chocolate, you are in the right spot.
At the end of our expedition, we ranked the hot chocolates in order from best to worst. At the top of the list is Green Engine, our favorite, whose claim to the top could not be disputed.
Next, we chose the n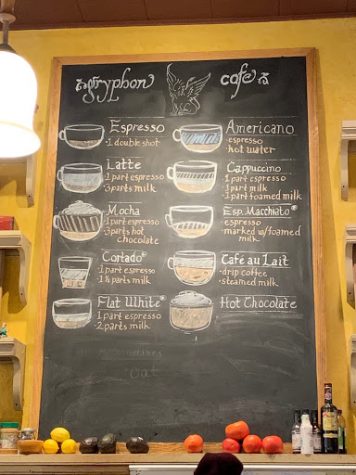 ew, almost caramel-like hot chocolate from the Gryphon Cafe which was truly a must-have, followed by Starbucks (both the peppermint and the regular) which added a fun twist to the Starbucks drinks that we are accustomed to.
At the bottom of the lineup, we had to put Le Pain Quotidien and La Colombe. From lukewarm chocolate instead of hot chocolate to a bitterness overload, nothing could save those hot cocoas from being, we're sorry to say it, atrocious.
The next time there's an especially biting chill in the air or a really big exam coming up, with lots of studying to do, we strongly recommend hunkering down at one of these cafes, ordering a delicious, warm hot chocolate and enjoying the winter and holiday vibes with hands wrapped around a steaming mug!