Cheap Eats On The Main Line
Going out with friends and looking for a place to eat, where you can get a delicious meal for under $15? On the Main Line, there are posh, expensive places to eat, but get ready to be introduced to five places, filled with delectable meals that won't break the bank. 
Whole Foods
Diets are the new trend, and a healthy lifestyle is desired by many. However, the smoothie and avocado toast fads are notorious for being expensive. Whole Foods has managed to compete with this reputation and create an enjoyable atmosphere, filled with buffets, salad bars, and more, opening up to the population of high school students. Choosing from a make-your-own avocado toast station, salad bar, sushi, smoothies, soup, and the daily specials, you can build your own dinner for under $15! You'll find Whole Foods in Wynnewood and in Wayne
El Limon
If you have a taco obsession, but Besito and Chipotle are out of your budget, El Limon is around the corner, with fresh food and a lively atmosphere. Housing the usual chips, guacamole, tacos, and burritos, El Limon offers many but no wrong options. The tinga tacos, our personal favorite, is served with a side of juicy limes, ripe tomatoes, melted cheese, and lettuce, with the option to add guacamole. Find El Limon in Ardmore, Btyn Mawr, and Conshohocken.
The Farmers Market
As most of the Main Line population knows, Suburban Square is the place you most likely run into fellow classmates and teachers, due to the overwhelming number of stores and restaurants. Unfortunately, Ruby's Diner, famous for its extra-large milkshakes, juicy burgers, addictive fries, and 80s style atmosphere has closed in Suburban Square, upsetting many of the shoppers.
However, shoppers in the Square can still find delicious and inexpensive food at the Ardmore Farmers Market, which sits near Trader Joes and Urban Outfitters in the corner of Suburban Square. This large building is filled with all types of mini restaurants: from the Amish Stand to Sushi Sei to The Ultimate Bakery.
Here, everyone has his/her choice of food, and even the pickiest eaters can find a treat to enjoy. The prices rang throughout the different counters, but most are fairly priced for their value. Suburban Square's Farmers Market proves to be an efficient, tasty, and cheap spot to grab a bite to eat. 
Wawa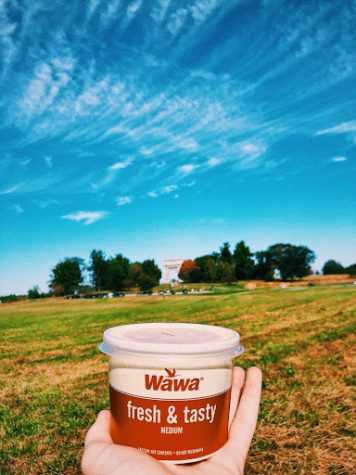 Everyone (at least in Pennsylvania) knows this store. Everyone loves it. Wawa is the quintessential cheap eats venue, with food that is not only delicious and cheap, but also fast. Wawa provides hot (and occasionally free) beverages, such as flavored coffees and hot chocolates, to customized hoagies to sides like macaroni and chicken fingers. Wawa also has lots of fun seasonal foods, and many choices to satisfy anyone. And, it's as cheap as it gets! Find a Wawa store on just about any corner.
Whole Foods, El Limon, the Ardmore Farmers Market, and Wawa are great places to dine for a casual, tasty, and inexpensive meal. The next time you're running late and only have a couple of dollars in your pocket for food, head to one of these four places—they won't disappoint.