The 25 Best Albums of the Decade
Since 2010, some of the greatest music of all time has been released. At the turn of the decade, mainstream music became more inclusive, opening the doors for previously ignored genres like funk, R&B, rap, and Latin. Here's a look at The Banner's picks for the Top 25 albums of the last ten years. 
SOMETIMES I SIT AND THINK, AND SOMETIMES I JUST SIT, Courtney Barnett (2015)
There's an unmatched intimacy to Courtney Barnett's Sometimes, as if the songs were being played live in a friend's garage. On the Australian rocker's bold debut, her greatest asset is her innate lyricism; it's humorous, it's meticulously specific, and most of all, it's unmistakably sincere. 
LOST & FOUND, Jorja Smith (2018)
On the British singer's debut album, Smith shows what makes her so special. With her achingly beautiful voice, she takes listeners on a tranquilizing and deeply emotional journey. With songs about faulty relationships and broken institutions, Lost & Found looks at what it means to live in a damaged world. 
JAMES BLAKE, James Blake (2011)
James Blake's debut album exists in a penumbra; it's dark and dismal–it's only light appearing in the form of Blake's woeful and oscillating vocals. In fact, it's the juxtaposition of his voice and his magnetic and granular electronic production that makes this album irresistible. 
TAKE CARE, Drake (2011)
While Drake's debut album granted him notoriety, it was his second that would make him a global superstar. With a slew of features and a 20-song-tracklist, Take Care remains the Canadian's strongest and most focused album, with its mix of melancholy and braggadocio helping to lay the foundation for the future of rap. 
BLACKSTAR, David Bowie (2016)
Being released only two days before David Bowie's death, Blackstar is a chilling testament to the British rockstar's expansive and triumphant career. Even in his final body of work, Bowie is still searching for divergence as he seamlessly blends styles like avant-garde jazz and glam rock, providing listeners with an album that is deeply rooted in its inquiry into life and death. 
NORMAN F****** ROCKWELL!, Lana Del Rey (2019)
Although NFR! came out just a few months ago, its hypnotic melodies and witty lyricism ensure its ability to stand the test of time. Del Rey's newest album is by far her best, as she clearly hones her nostalgic style and provides a timeless record reminiscent of the classical songwriters of the 1970s. 
MALIBU, Anderson .Paak (2016)
Paak's versatility has never been better represented than on his sophomore effort–from bouncy vocals floating over soft pianos, to his rapping skills layered over 90's rap beats. It is on Malibu where Anderson .Paak bares his soul, while simultaneously juggling an array of genres like rap, soul, and R&B. 
DIRTY COMPUTER, Janelle Monáe (2018)
For years, Janelle Monáe was hidden behind the musical shadows; on Dirty Computer, she leaps into the light. Highlighting her newfound freedom and exuberant quirkiness, she creates a funky and passionate album that leads listeners on a linear, yet diversified path. 
BLACK MESSIAH, D'Angelo & The Vanguard (2014)
After a 14 year hiatus, D'Angelo (and his band, The Vanguard) returned with a strikingly poignant album. Messiah is a masterclass in R&B, with its jazz and neo-soul inspired, hypnotic rhythms. Feverish guitar licks highlight the singer's raspy tone and make for a harmonious and stirring album–one that will cement D'Angelo's legacy forever. 
EL MAL QUERER, Rosalía (2018)
With the boom of Latin styles like reggaeton, Barcelona-born singer Rosalía decided to stick with what she knew: flamenco. On her sophomore album, El Mal Querer, she effortlessly sews together flamenco's extravagance with the gut-wrenching vulnerability of pop. Her transcendent voice soars through a rugged background of syncopated claps and stomps on one of the greatest Latin albums of all time. 
THE EPIC, Kamasi Washington (2015)
On the LA-based, tenor saxophonist and composer's studio debut album, he proves to listeners why he's leading the current jazz revival. At 170 minutes long, The Epic is a fitting title for the music that lives inside: a monumental display of grandeur and cacophony. As Washington weaves together spiritual jazz, Afrobeat, and soul, he creates a controlled recklessness. 
GOLDEN HOUR, Kacey Musgraves (2018)
In 2018, Kacey Musgraves' Golden Hour brought sentiments of benevolence and acceptance to a genre that typically sticks to its traditionalist roots. On her poppiest album yet, Musgraves' glistening vocals float over banjo, guitars, and pianos as she poignantly sings of love and heartbreak. Possibly most appealing is her melancholic lyrics which prove why she is such a pivotal figure in country music. 
GOOD KID, M.A.A.D. CITY, Kendrick Lamar (2012)
What makes Kendrick Lamar's Good Kid, M.A.A.D. City so special is its narrative quality, as if we are listening to his autobiography. Lamar's third album is centered in his Compton upbringing and the difficulties in his childhood and teendom. With memorable verses and a gritty production, M.A.A.D. City poetically exemplifies the rapper's tumultuous history with his hometown.
CURRENTS, Tame Impala (2015)
There's something so infectious about the synth-heavy beats and melodious bass lines that adorn Kevin Parker's third album. On Currents, Parker creates an album that revels in its psychedelic fluidity and finds the one-man band vastly exploring the realms of electronic, disco, and rock. 
BEYONCÉ, Beyoncé (2013)
On December 13, 2013, music fans weren't expecting a project from Beyoncé; what they received was one of her greatest works. Beyoncé is the accumulation of the singer's long career, as she uses her life experiences to explore topics of sexuality, maturity, and femininity. With dark undertones, evocative vocals, and a long list of collaborators, the cultural impact of Beyonce's fifth album is immeasurable.
ANTI, Rihanna (2016)
Rihanna's eighth studio album is her riskiest and most fulfilling one to date. Anti excels primarily due to its versatility–fusing her bubbling ferocity with a restricted hurt. It is on Anti where she truly breaks free, leaving behind years of formulaic pop music and replacing it with a provocative and infectious work. 
CHANNEL ORANGE, Frank Ocean (2012)
After a few years of ghostwriting and a supporting role in the LA-collective Odd Future, Frank Ocean's release of Channel Orange would serve as a resurrection to the then-fading genre of R&B. With his emotive vocals and fervent lyricism, Ocean proved he was here to stay. Orange is a leisurely display of excess and fragility, as he assumes varying narratives that serve as a songwriting paradigm.
CTRL, SZA (2017)
SZA is somewhat of a perfectionist. This may explain why her album, Ctrl, is one of the best of the decade. Her vulnerability is bewitching; her earnest lyrics are refreshing. The contrast of SZA's passionate vocals over effervescent instrumentals is just one of the reasons why Ctrl is such an impressive debut. 
MODERN VAMPIRES OF THE CITY, Vampire Weekend (2013)
After years of perfecting their craft, Vampire Weekend's third album is a sparkling end to lead singer Ezra Koenig and producer Rostam Batmanglij's final collaboration. With meticulous wordplay and witty lines, Koenig's voice strikes a chord with listeners over the Batmanglij's bouncy and nostalgic ambience. 
A SEAT AT THE TABLE, Solange (2016)
As the nation's racism was reaching a peak, the release of A Seat at the Table was exceedingly relevant. On her third album, Solange crafts a poignant proclamation on racism in America, and what it means to be a black woman in the current societal confines. Embellished with airy vocals and memorable guest appearances by Sampha and Lil Wayne, Solange's message and musical prowess have never been clearer. 
MY BEAUTIFUL DARK TWISTED FANTASY, Kanye West (2010)
On MBDTF, West proves to his cynics why he's so special: his brash lyricism, ferocious production, and passionate delivery. Considered a polarizing shift from his previous and more artistic album, 808's & Heartbreaks, MBDTF is a sonic buffet, with some songs excelling in their decadence, others excelling in their displays of extravagance. With standout guest appearances from Rihanna, Bon Iver, and a career-defining verse from Nicki Minaj, West shows that he is an equally talented creative director. 
MELODRAMA, Lorde (2017)
Brooding and bracing, Lorde's sophomore effort is something to marvel. Working with producer Jack Antonoff, Lorde explores how teenage stardom can meld into adult insufficiency. Throughout, Lorde instills her signature vocals–a mix of soaring falsettos and looming low notes–over production that wraps listeners in a tenacious warmth. Melodrama is immaculate, like a poem. Sauntering from intimate soundscapes to synth-heavy, late-night anthems, one thing remains the same: her evocative lyricism.
BLONDE, Frank Ocean (2016)
While some albums are special for their lavishness, Blonde excels in its subtlety. For Ocean, then 28, his second album is the zeitgeist of a man in his late twenties: sometimes he cares too much, sometimes he doesn't care at all. The album's languidity is accompanied by surrealist lyricism and celestial production that help to create a work that is so dreamy, you'll begin to question if you're even awake. 
TO PIMP A BUTTERFLY, Kendrick Lamar (2015)
On To Pimp a Butterfly, Lamar crafts his most polarizing album to date. Centered in his otherworldly lyricism, TPAB serves as a dissection of America's racial dichotomy. The jazz and soul elements–aided by musicians like Kamasi Washington and Thundercat–help echo historically black music traditions. On his third album, Lamar writes a love letter to Black America and preaches a prayer for the nation's future. 
LEMONADE, Beyoncé (2016)
After a slew of acclaimed releases (see Number 11), Beyoncé had already cemented herself as a pivotal artist of the decade; Lemonade made her the artist of the decade. On this modern-day masterpiece, Beyoncé concocts her most soul-bearing and honest album to date, chronicling the infamous cheating scandal that fractured her marriage with rapper Jay-Z. Incorporating musical elements from country, rock, R&B, and rap, she forms one of the greatest cross-genre albums of all time. As one of the most influential people in the world, Beyoncé's candidness is monumental; it's proof that we can all be vulnerable. 
About the Writer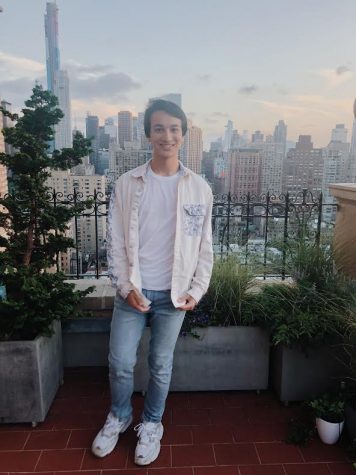 Ty Nagvajara, Executive Editor
Harriton senior Ty Nagvajara is very excited to become the Co-Executive Editor for The Harriton Banner this year. Last year he worked as the Arts &...