The 30 Best Songs of 2019
Ty Nagvajara, Arts and Entertainment Editor
February 14, 2020
In the last year of the decade, many musicians released music, hoping to leave one last etching on the 2010s. From captivating summer hits to folk-pop tunes, 2019 provided music fans with a smorgasbord of musical genius. 
"BEFORE I LET GO," BEYONCÉ
On this updated cover of the classic Maze & Beverly Franklin track, Beyoncé adds an array of horns, glistening harmonies, and her own dance craze that create a stunning ode to black culture.
"HOT GIRL SUMMER (feat. NICKI MINAJ & TY DOLLA $IGN)," Megan Thee Stallion
Megan Thee Stallion's smash hit draws on her freeing and fun feminist movement that controlled the summer of 2019. With braggadocious delivery and spot-on guest performances by Minaj and Ty Dolla $ign, "Hot Girl Summer" stands as one of the catchiest party anthems of recent years. 
"ALL FOR US," LABRINTH & ZENDAYA
Appearing on the season finale of the HBO series Euphoria, "All for Us" is an uproarious and deeply moving song. Labrinth's production perfectly melds reverberating themes of gospel with electronic synthesizers to produce a track that compliments the duo's voices perfectly.
"BURNING," MAGGIE ROGERS
With clanging instrumentals and a fiery performance by Rogers, "Burning" is a lively track about love. Exuding an infectious energy, "Burning" will make anyone want to dance. 
"RNP (feat. ANDERSON .PAAK)," YBN CORDAE
YBN Cordae entered the rap game with one of the bounciest tracks of the year. Produced by fellow rapper J. Cole, Cordae swiftly flaunts his new-found success while perfectly mixing with Paak's smooth vocals. 
"LATE NIGHT FEELINGS (feat. LYKKE LI)," MARK RONSON 
Trembling with melodrama and flare, "Late Night Feelings" is an emotional breakup song within a glitzy disco-pop track. Utilizing Ronson's vivid melodies, this track will have you crying on the dance floor. 
"MOTIVATION, " NORMANI
Heavily influenced by the early 2000's era of pop and R&B, Normani's debut single is a confident and bubbly pop single. "Motivation" is proof that Normani may just be pop's next biggest thing. 
"OLD TOWN ROAD (REMIX) [feat. BILLY RAY CYRUS]," Lil Nas X
Love it or hate it, "Old Town Road" was undeniably the biggest song of 2019. Blending elements of country and rap, Lil Nas X broke onto the music scene with a carefree and irresistible earworm. As the two croon over a simplistic beat, their uber-confident delivery has the power to unite everyone.
"MILE HIGH (feat. TRAVIS SCOTT & METRO BOOMIN)," JAMES BLAKE
Tender vocal performances by both Blake and Scott adorn a quintessential Metro Boomin trap beat to create this delicate, yet haunting track.
"ONLY CHILD," TIERRA WHACK
"Only Child" finds Philadelphia native Tierra Whack utilizing her goofy personality while crooning over a past ex. Embellished with a metaphorical rap verse, it's an inventive take on the classic breakup track. 
"EVERYDAY," WEYES BLOOD
With a style reminiscent of the 70s folk era, "Everyday" is a brilliantly written song about ones desire for love. With a lush and vivacious style, Weyes Blood's voice floats over crescendoing production. 
"VENOM," Little Simz
On one of the most hellacious rap songs of the year, British rapper Little Simz instills her brooding lyricism and speedy delivery over a violin-infused rap beat to create an incredibly strong feminist track.
"BOY BYE," BROCKHAMPTON
With Latin flare and an incredibly catchy string sample, "Boy Bye" is one of Brockhampton's most infectious tracks. Over energetic production, the group members are easily able to flaunt their rap skills. 
"SOFIA," CLAIRO
Produced by Rostam Batmanglij of Vampire Weekend fame, "Sofia" shines in its garage rock aesthetic, with Clairo's simplistic vocals perfectly juxtaposing over the more rugged instrumentation. 
"SUGE," DABABY
If anyone had a breakout year, it was DaBaby, and his song "Suge" proves why. With an unmatched ferocity and a bouncing beat, DaBaby confidently raps as if he's been in the league for years. 
"ALL MIRRORS," ANGEL OLSEN
"All Mirrors," the title track of Olsen's fourth solo album, is by far her most ambitious song to date. With colossal production, the singer's vocals sail over heavy synths and warm strings to form an epic work. 
"HEY, MA," BON IVER
Bon Iver's lead singer Justin Vernon takes the reins of this track, creating a vocally passionate and emotive single that echoes their previous works like "Flume." With nostalgic lyrics of adolescence and longing, Vernon hits a chord with his husky low notes and soaring falsettos.  
"FAKE SMILE," ARIANA GRANDE
If anyone has had a difficult past few years, its Ariana Grande, yet rather than hiding away, she uses these troubles as inspiration. On "Fake Smile," the pop princess instills her impressive vocals for an authoritative track about not forcing her happiness anymore. 
"PLAYGROUND," STEVE LACY 
On this funky and psychedelic track, Lacy adopts a new-found swagger similar to that of Prince. With staccato high notes and gooey guitar instrumentation, it's impossible not to dance to "Playground."
"HALLELUJAH," HAIM
Sister-trio Haim come together on "Hallelujah," an emotionally stirring track about sisterhood and friendship. Excelling in its simplicity, the three give exceptional performances over a folky guitar melody. 
"BORDERLINE," TAME IMPALA
On the heels of his fourth album, Kevin Parker released a series of impressive singles, including the incredibly infectious "Borderline." With hazy and synth-heavy production, Parker employs his typical style to create a buoyant and summery earworm. 
"JUICE," LIZZO 
The name of Lizzo's lead single is a fitting title; it's refreshing, sweet, and incredibly juicy. Dripping with self-love, she instills a funky style to create one of the most irresistible retro-pop anthems of the year. 
"XANNY," BILLIE EILISH
 Opening with the then-17-year-old crooning over a mix of basslines and flurrying snares, the track quickly morphs into a more ominous tune. With a heart-pulsing bass that explodes at the chorus, Eilish examines the opioid culture that plagues modern youth, making "Xanny" her own an anti-drug campaign. 
"GONE," CHARLI XCX & CHRISTINE AND THE QUEENS
On this fluid and rousing song from one of the leading figures in futuristic pop, Charli XCX collaborates with French artist Christine and the Queens to produce an engaging track which easily highlights the duo's stunning and complementary voices over magisterial production. 
"ALMEDA," SOLANGE
Saluting her hometown of Houston, Solange constructs a smooth tribute to Black America. With rattling percussion and a poignant guest appearance from Playboi Carti, "Almeda" is a full-blown celebration. 
"CON ALTURA (feat. EL GUINCHO)," ROSALĺA & J. BALVIN
On her first reggaeton-influenced track, Barcelona-born Rosalía sparkles with Columbian reggaeton legend J. Balvin. As the two bounce off tenacious verses, they put their Latin wizardry on full display. 
"HARMONY HALL," VAMPIRE WEEKEND
From the second "Harmony Hall" starts, Ezra Koenig has already hooked his listeners with an irresistible guitar riff. The rest of the song follows suit with fantastical and utopian-like instrumentation, topped with Koenig's innate lyricism. 
"THE GREATEST," LANA DEL REY
On "The Greatest," Del Rey's wispy voice drifts along melodramatic piano and guitar chords, as she poetically sings of a longing for the past, while simultaneously wandering into the apocalypse. 
"CELLOPHANE," FKA TWIGS
Incredibly creative and always in control, "Cellophane" is a voyage into the many realms in which Twigs' voice encompasses. With shrill falsettos and the emotion of an Oscar-winning drama, "Cellophane" acrobatically dives into the depths of a broken heart, only to return more angelic than before. 
"EARFQUAKE," TYLER, THE CREATOR
With pitched-up vocals and beseeching lyricism, Tyler ardently sings to a love that he wishes would stay with him. Receiving vocal help from Charlie Wilson and Jessy Wilson, plus an incredible mumble-rap verse from Playboi Carti, "Earfquake" excels in it's oddball characteristics. Pulsing and dreamy production provides listeners with a beguiling hit that will have you singing the title lyric all day. 
About the Writer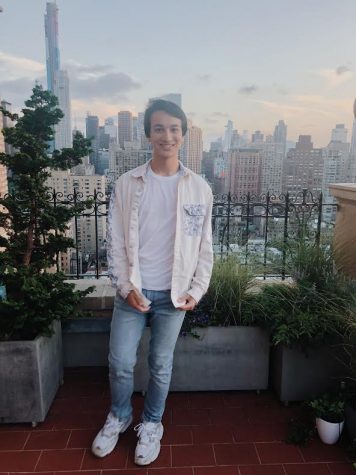 Ty Nagvajara, Executive Editor
Harriton senior Ty Nagvajara is very excited to become the Co-Executive Editor for The Harriton Banner this year. Last year he worked as the Arts &...