The Ana-lyzer #3: How To Be Single On Valentine's Day
Last Valentine's Day was a fairytale, straight out of Taylor's Swift's love songs. It was magical as he showed up to your door with roses and took you out to your favorite restaurant. Sparks were flying, love was in the air, and he told you your eyes twinkled in the moonlight.
Fast forward to about a year later and you're currently on your bed with your fifth bag of Dorito chips in one hand and very cheesy fingers on the other hand. 
So, yeah, he didn't turn out quite like you expected.
Your year of singledom has finally come, and even the sight of couples holding hands makes you puke a little in your mouth. So whether you're crying alone in your room listening to "Dancing in The Dark" by Joji, or you're trying to anesthetize your loneliness with ice cream and texting your ex to come back to you, this is a guide to being single on one of the most commercialized holidays of the year.
Let's begin by saying that even though you may be sad, it is just one day after all. Those "perfect" couples that you see everywhere will go back to their own lives and their own problems, too. Valentine's Day is not a get-out-of-jail-free card for relationship problems, and if you remember that, you'll realize that you have one less thing to stress about.
Relationships are a lot of work, and don't let one day make you forget that. Regardless of why you're not in a relationship right now, you need to trust that reason and know that when it's the right time, someone will come along. 
While you're still sad and on your sixth bag of Dorito chips now, take a step back and realize all the things you could do now that you couldn't in a relationship. No matter how perfect the relationship was, there were things that you just could not stand.
Did you always have to miss those cool lunch outings with your friends because you had to go and watch their basketball game every Saturday? Nope, not anymore!
Maybe there was a painting class you had always wanted to take, but just stayed in watching "13 Reasons Why" on repeat while eating take out because that's what they always wanted to do. Nope!
Never again will another Selena Gomez produced show haunt your brain. Whatever it is, take advantage of this opportunity and go hang out with some of your friends. Focus on the relationships with them instead of romantic interests on Valentine's Day.
The last and probably most important tip I can pass on to you, dear reader, is that this, too, shall pass. You will not be single forever, and one day you'll have a new companion with whom you can frolic in fields of flowers and run into the sunset together. The right person will come along at the right time—you just have to be willing to wait a bit.
Just a heads up readers! If you have a love or lifestyle question that you want the Ana-lyzer to answer, be sure to email me at [email protected] for the best chance of getting a reply! Questions will be anonymous to readers. 
About the Writer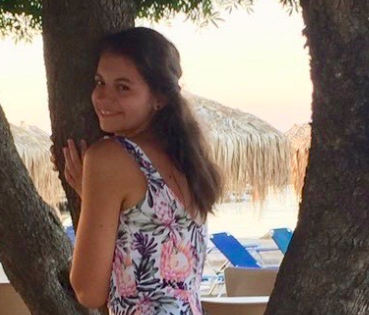 Ana Mihaila, Staff Writer
This year, Ana decided to take her ideas about relationships and lifestyle to The Harriton Banner to help people through any emotional obstacles they may...